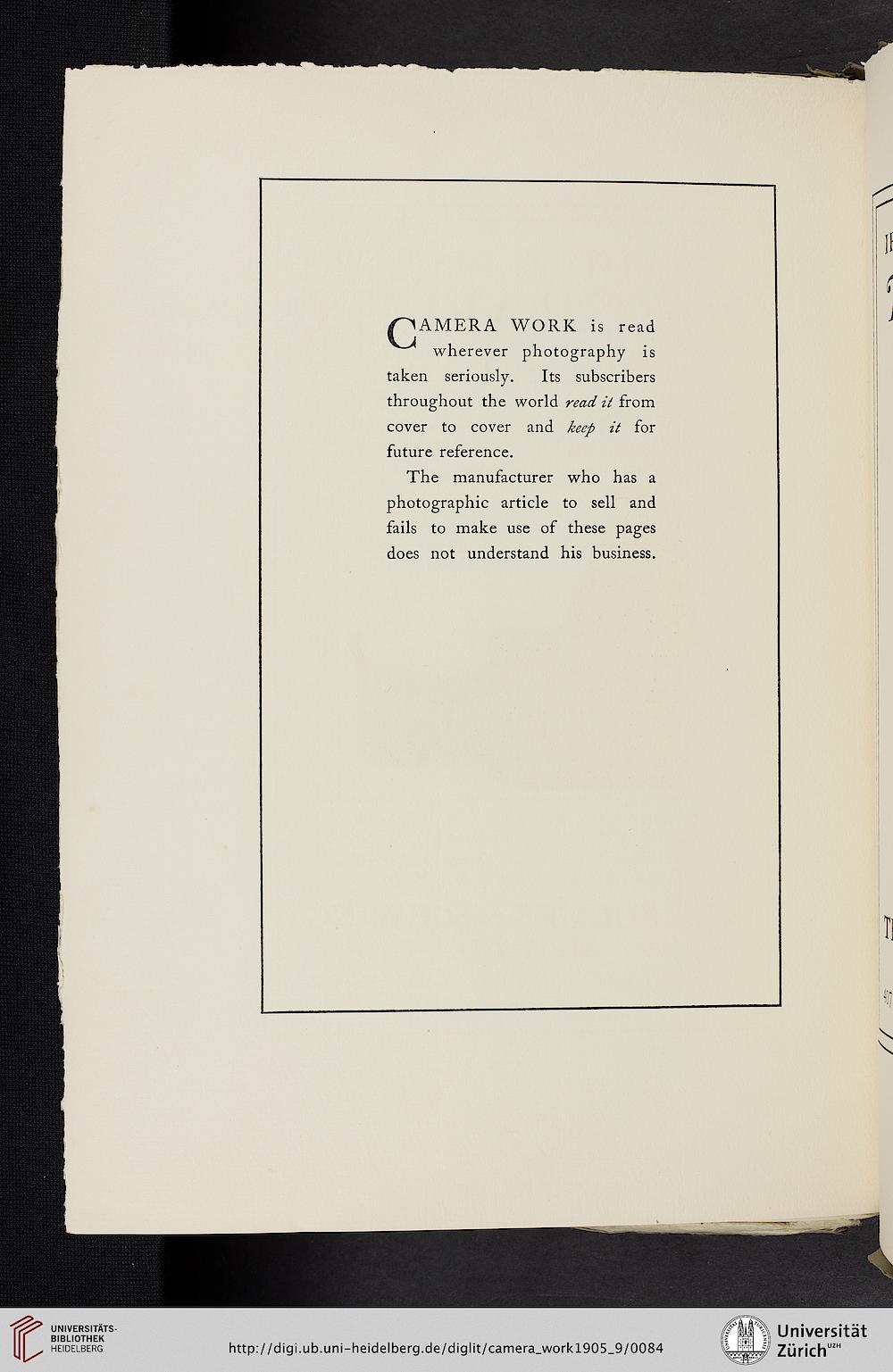 Mounted
With
HIGGINS'
PHOTO
MOUNTER


Have an excellence peculiarly their
own. The best results are only
produced by the best methods and
means—the best results in Photo-
graph, Poster, and other mounting
can only be attained by using the
best mounting paste—
HIGGINS' PHOTO MOUNTER
(Excellent novel brush with each jar.)

At Dealers in Photo Supplies,
Artists'Materials and Stationery.

A 3-oz. jar prepaid by mail for thirty cts.
or circulars free from
CHAS. M. HIGGINS & CO., Mfrs.
NEW YORK—CHICAGO—LONDON
Main Office, 271 Ninth St. Brooklyn,
Factory, 240-244 Eighth St. N. Y., U.S.A.

DALLMEYER'S NEW TELEPHOTO-LENS
THE "ADON"
(PATENT) Registered
This lens renders Telephotog-
raphy possible with the smallest
and lightest cameras. It is the
lightest complete telephoto-lens
yet made, weighing only 4¾
ounces. It is the only telephoto
attachment that can be placed
in front of a lens at its infinity
focus without disturbing films or
plates which are already in posi-
tion. It will, when used alone,
cover any plate from midget to
15x12. It is admirable for
artistic portraiture.
Send for illustrated Book-
let which gives full details
and illustrations showing
size of image with various lenses and camera extensions. Price, including solid leather case and fitting to
any lens up to 2 inches diameter, 10s. nett.
THE DALLMEYER-BERGHEIM LENS
is the only photographic instrument which has been designed with the object of recording tone-values, while
suppressing unnecessary detail, and this without loss of texture. The lens, although primarily intended for
portraiture, is equally useful for landscapes. Particulars and prices free on application to
J. H. DALLMEYER, Ltd., 25 Newman Street, London, W.