Fouilles a Dahchour: 1894 - 1895
Wien, 1903
Daschur stellt eine der wichtigsten Königsnekropolen des Alten und Mittleren Reichs dar, um die herum zahlreiche private Grabbauten errichtet wurden. Bei seinen Ausgrabungen fand J. de Morgan dabei spektakuläre Schmuck- und Statuenfunde, die sich heute im Ägyptischen Museum in Kairo befinden. In der Publikation befinden sich zudem mehrere Rekonstruktionszeichnungen, die veranschaulichen, wie sich der Autor den ursprünglichen Baubefund vorstellte.
Citation link: https://digi.ub.uni-heidelberg.de/diglit/morgan1903
URN: urn:nbn:de:bsz:16-diglit-41898
DOI: https://doi.org/10.11588/diglit.4189
Metadata: METS
IIIF Manifest: https://digi.ub.uni-heidelberg.de/diglit/iiif/morgan1903/manifest.json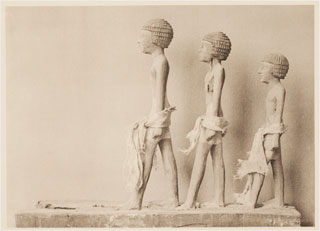 There are annotations to this facsimile. Individual pages with annotations are marked in "Overview" with the symbol .
Content