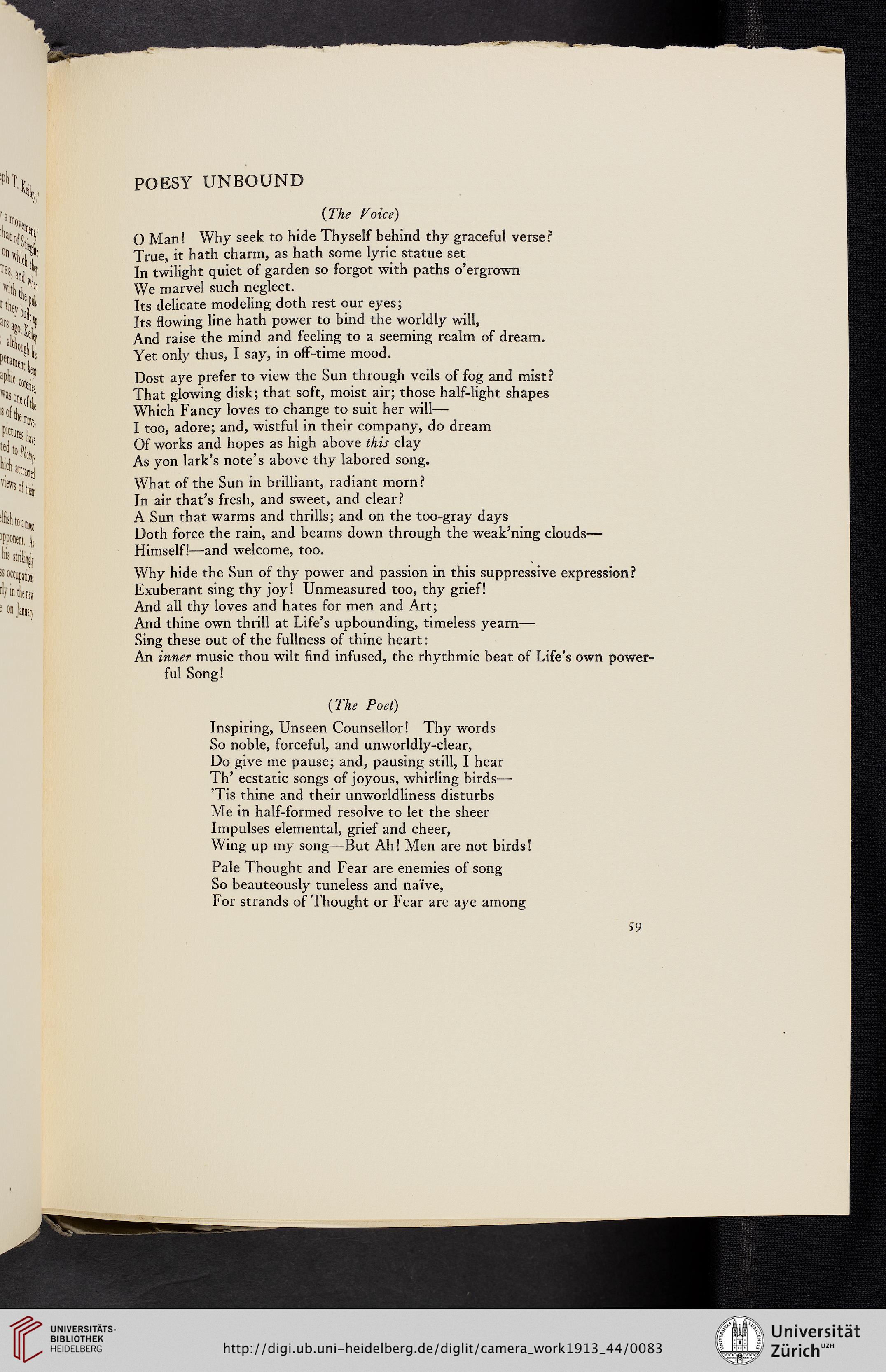 A manually made transcription or edition is also available for this page. Please change to the tab "transrciption" or "edition."
POESY UNBOUND
(The Voice)
O Man! Why seek to hide Thyself behind thy graceful verse?
True, it hath charm, as hath some lyric statue set
In twilight quiet of garden so forgot with paths o'ergrown
We marvel such neglect.
Its delicate modeling doth rest our eyes;
Its flowing line hath power to bind the worldly will,
And raise the mind and feeling to a seeming realm of dream.
Yet only thus, I say, in oflF-time mood.
Dost aye prefer to view the Sun through veils of fog and mist?
That glowing disk; that soft, moist air; those half-light shapes
Which Fancy loves to change to suit her will—
I too, adore; and, wistful in their company, do dream
Of works and hopes as high above this clay
As yon lark's note's above thy labored song.
What of the Sun in brilliant, radiant morn?
In air that's fresh, and sweet, and clear?
A Sun that warms and thrills; and on the too-gray days
Doth force the rain, and beams down through the weak'ning clouds—
Himself!—and welcome, too.
Why hide the Sun of thy power and passion in this suppressive expression?
Exuberant sing thy joy! Unmeasured too, thy grief!
And all thy loves and hates for men and Art;
And thine own thrill at Life's upbounding, timeless yearn—
Sing these out of the fullness of thine heart:
An inner music thou wilt find infused, the rhythmic beat of Life's own power-
ful Song!
(The Poet)
Inspiring, Unseen Counsellor! Thy words
So noble, forceful, and unworldly-clear,
Do give me pause; and, pausing still, I hear
Th' ecstatic songs of joyous, whirling birds—
'Tis thine and their unworldliness disturbs
Me in half-formed resolve to let the sheer
Impulses elemental, grief and cheer,
Wing up my song—But Ah! Men are not birds!
Pale Thought and Fear are enemies of song
So beauteously tuneless and naive,
For strands of Thought or Fear are aye among