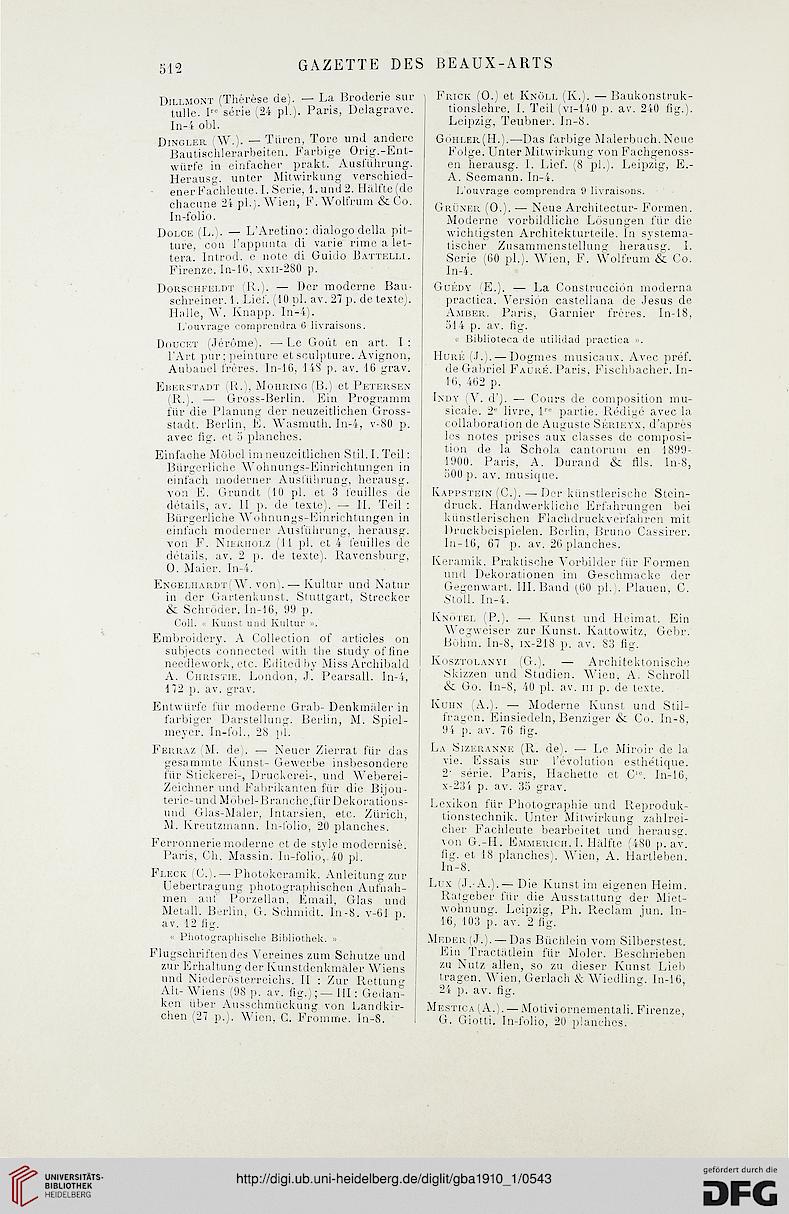 GAZETTE DES BEAUX-ARTS

Dillmont (Thérèse de). — La Broderie sur
tulle. Ve série (24 pl.). Paris, Delagrave.
In-4 obi.

Dingler W.). — T tire n, Tore und anderc
Bautischlerarbeiten. Farbige Orig.-Ent-
würfe in einfacher prakt. Ausfiihrung.
Herausg. un ter Mitwirkung verschied-
enerFachleute.I. Sérié, l.und2. Hiilfte(de
chacune 24 p 1.). A\ ien, F.Woltrum &Co.
In-folio.

Dolce (L.). — L'Aretino: dialogo délia pit-
ture, cou l'appunta di varie rime a iet-
tera. Introd. e note di Guido Battelli.
Firenze. In-IG, xxn-280 p.

Dorschfeldt (R.). — lier moderne Bau-
schreiner. 1. Lief. (10 pl. av. 27 p. de texte).
Halle, W. Knapp. In-4).

L'ouvrage comprendra 6 livraisons.

Doucet (Jérôme). — Le Goût en art. I :
l'Art pur; peinture et sculpture. Avignon,
Aubauel frères, ln-16, 148 p. av. 16 grav.

Eberstadt (R.), Mohring (B.) et Petersen
(R.). — Gross-Berlin. Ein Programma
fur die Planung der neuzeitlichen Gross-
stadt. Berlin, E. Wasmuth. In-4, v-80 p.
avec fig. et 5 planches.

Einfaohe Môbcl im neuzeitlichen Stil. I.Teil:
Biirgerliche Wohnungs-Einrichtungen in
einfach moderner AusI'ulnung, herausg.
von E. Grundt (10 pl. et 3 feuilles de
détails, av. II p. de texte). — IL Teil :
Biirgerliche Wohnungs-Einrichtungen in
einfach moderner Ausfiihrung, herausg.
von F. Nierholz (11 pl. et 4 feuilles de
détails, av. 2 p. de texte). Ravcnsburg,
O. Maier. In-4.

Engelhardt(W. von).— Ivultur und Natur
in der Gartenkuust. Stuttgart, Strecker
& Schrôder.In-16, 99 p.

Coll. « Kunst und Ivultur ».

Embroidery. A Collection of articles on
subjects connected with the study of fine
needlework, etc. Editcdby Miss Archibald
A. Christie. London, J. Pearsall. In-4,
172 p. av. grav.

Entwiirfc für moderne Grab- Denkmâler in
farbiger Darstellung. Berlin, M. Spiel-
meycr. In-fol., 28 pl.

Ferraz (M. de). — Neuor Zierrat für das
gesammte Kunst- Gewerbe insbesondere
fur Stickerei-, Druckcrei-, und Weberei-
Zeichner und Fabrikanten für die Bijou-
terie- und Mobel- B ranchc,ftir Dekorations-
und Glas-Maler, Intarsien, etc. Zurich,
M. Kreutzmann. In-folio, 20 planches.

Ferronnerie moderne et de style modernisé.
Paris, Ch. Massin. In-folio, 40 pl.

Fleck G.). — Photokcramik. Anleitung zur '
Uebertragung photographischcn Aufnah-
men auf Porzellan, Émail, Glas und
Metall. Berlin, G. Schmidt. In-8. v-61 p
av. 12 fig.

« Photographisclie Bibliothek. »

Flugschriftendes Yereines zum Schutze und
zur Erhaltuug der Kunstdenkmàler Wiens
und Niederosterreichs. II : Zur Rettung
Alt-Wiens (98 p. av. fig.);—111: Gedan-
ken liber Ausschmiickung von Landkir-
chen (27 p.). Wien, C. Fromrne. In-8.

Frick (O.) et Knôll (K.). — Baukonstruk-
tionslehre. I. Teil (vi-140 p. av. 240 fig.).
Leipzig, Teubner. In-8.

Gôiiler.(H.).—Das farbige Malerbuch. Neue
Folge. Unter Mitwirkung von Fachgenoss-
en herausg. I. Lief. (8 pl.). Leipzig, E.-
A. Seemann. In-4.

L'ouvrage comprendra 9 livraisons.

Grüner (0.). — Neue Architectur- Formen.
Moderne vorbildliche Lôsungen für die
wichligsten Architekturteile. In systema-
tischer Zusammenstellung herausg. I.
Sérié (60 pl.). Wien, F. Wolfrum & Co.
In-4.

Guédy (E.). — La Construcciôn moderna
practica. Version castellana de Jésus de
Amber. Paris, Garnier frères. In-18,
514 p. av. fig.

« Biblioteca de utilidad practica ».

IIuré (.1.). — Dogmes musicaux. Avec préf.
de Gabriel Fauré. Paris, Fisclibacher. In-
16, 462 p.

Ixdy (V. d'). — Cours de composition mu-
sicale. 2e livre, lre partie. Rédigé avec la
collaboration de Auguste Sérieyx, d'après
les notes prises aux classes de composi-
tion de la Schola cantorum en 1899-
1900. Paris, A. Durand & fils, ln-8,
500 J3. av. musique.

Kappstein (C.). —Der künstlerische Stcin-
druck. Handwerkliche Erfahrungcn bei
kiinstlerischen Flachdruckverfahrcn mit
Druckbeispielen. Berlin, Bruno Cassirer.
In-16, 67 p. av. 26 planches.

Keramik. Praktische Vorbilder für Formen
und Dekorationen im Geschmackc der
Gegcnwart. III.Band (60 pl.). Plauen, C.
Stoll. In-4.

Knôtel (P.). — Kunst und Heimat. Ein
Wegweiser zur Kunst. Kattowitz, Gebr.
Bohm. In-8, ix-218 p. av. 83 fig.

Kosztolanyi (G.). — Architektonische

Skizzen und Studien. Wien, A. Schroll
& Go. In-8, 40 pl. av. iii p. de texte.

Kuhn A.). — Moderne Kunst und Stil-
fragen. Einsiedeln, Benziger & Co. In-8,
94 j). av. 76 fig.

La Sizeranne (R. de). — Le Miroir de la
vie. Essais sur l'évolution esthétique.
2' série. Paris, Hachette et Cle. In-16,
x-234 p. av. 35 grav.

Lexikon ftir Photographie und Reproduk-
tionstechnik. Unter Mitwirkung zahlrei-
clier Fachleute bearbeitet und herausg.
\on G.-H. Emmericii. I. Hàlfte (480 p. av.
fig. et 18 planches). Wien, A. Hartleben.
In-8.

Lux J.-A.).— Die Kunst im eigenen Iieim.
Ratgeber fur die Ausstattung der Miet-
wohnung. Leipzig, Ph. Reclam iun. In-
16, 103 p. av. 2 fig.

Meder(J.). — Das Büchleiu vom Silberstest.
Ein Tractatlein für Moler. Besclirieben
zu Nutz allen, so zu dieser Kunst Lieb
tragen. Wien, Gerlach & Wiedling. ln-16,
24 p. av. fig.

Mestica (A.). — Motiviornementali. Firenze,
G. Giotti. In-folio, 20 planches.