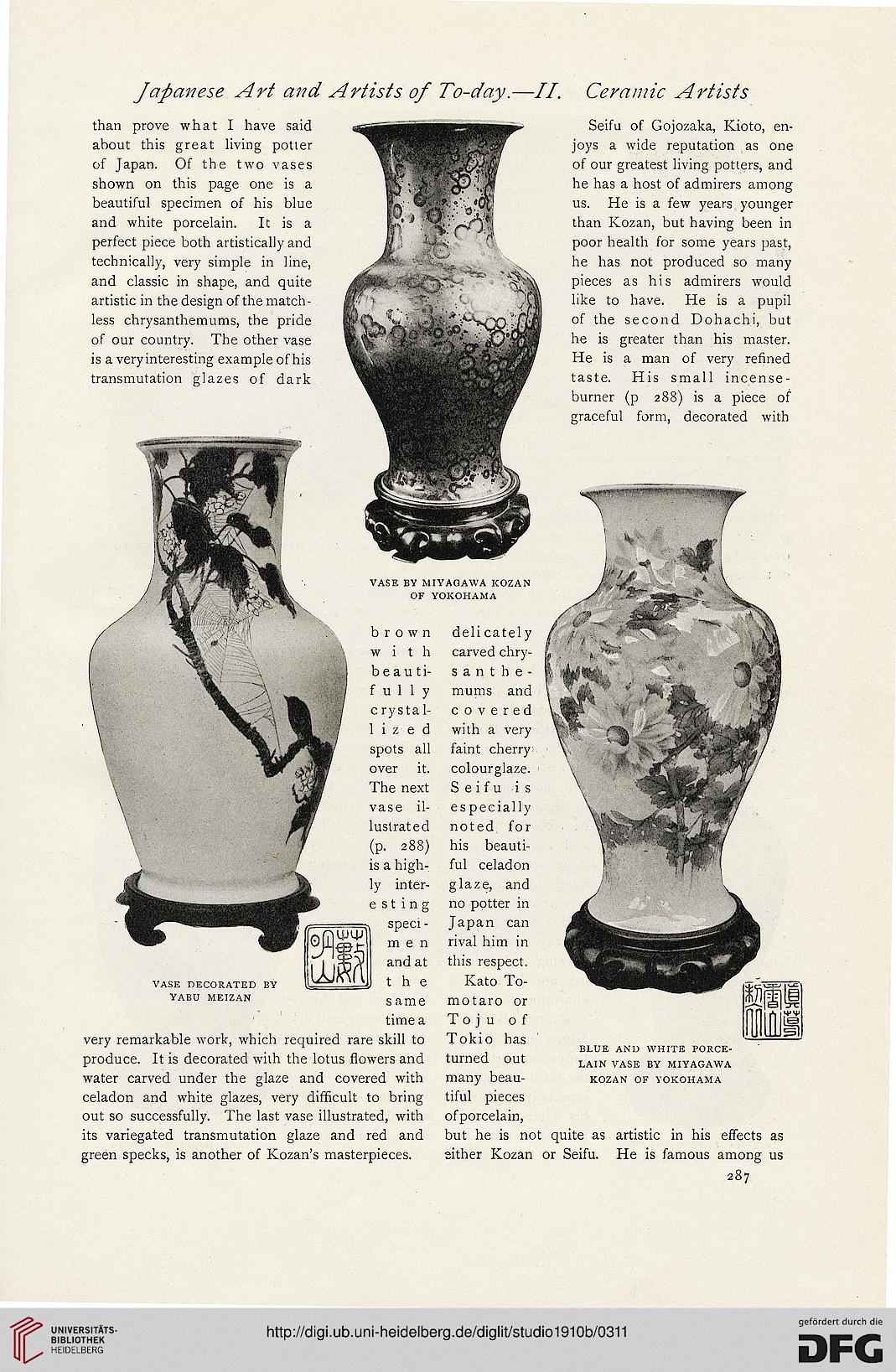 Japanese Art and Artists of To-day.—II. Ceramic Artists

Seifu of Gojozaka, Kioto, en-
joys a wide reputation as one
of our greatest living potters, and
he has a host of admirers among
us. He is a few years younger
than Kozan, but having been in
poor health for some years past,
he has not produced so many
pieces as his admirers would
like to have. He is a pupil
of the second Dohachi, but
he is greater than his master.
He is a man of very refined
taste. His small incense-
burner (p 288) is a piece of
graceful form, decorated with

than prove what I have said
about this great living potter
of Japan. Of the two vases
shown on this page one is a
beautiful specimen of his blue
and white porcelain. It is a
perfect piece both artistically and
technically, very simple in line,
and classic in shape, and quite
artistic in the design of the match-
less chrysanthemums, the pride
of our country. The other vase
is a very interesting example of his
transmutation glazes of dark

VASE BY MIYAGAWA KOZAN
OF YOKOHAMA

deli catel y
carved chry-
santhe-
mums and
covered
with a very
faint cherry
colourglaze.

Seifu is
es pecially
noted for
his beauti-
ful celadon
glaze, and
no potter in
Japan can
rival him in
this respect.

Kato To-
motaro or
T o j u of
Tokio has
turned out
many beau-
tiful pieces
of porcelain,

but he is not quite as artistic in his effects as
either Kozan or Seifu. He is famous among us

287

mi

BLUE AND WHITE PORCE-
LAIN VASE BY MIYAGAWA
KOZAN OF YOKOHAMA

spots a

over

The nex

lustrate

is a high

UJOJ

and a

VASE DECORATED BY
YABU MEIZAN

time a

very remarkable work, which required rare skill to
produce. It is decorated with the lotus flowers and
water carved under the glaze and covered with
celadon and white glazes, very difficult to bring
out so successfully. The last vase illustrated, with
its variegated transmutation glaze and red and
green specks, is another of Kozan's masterpieces.