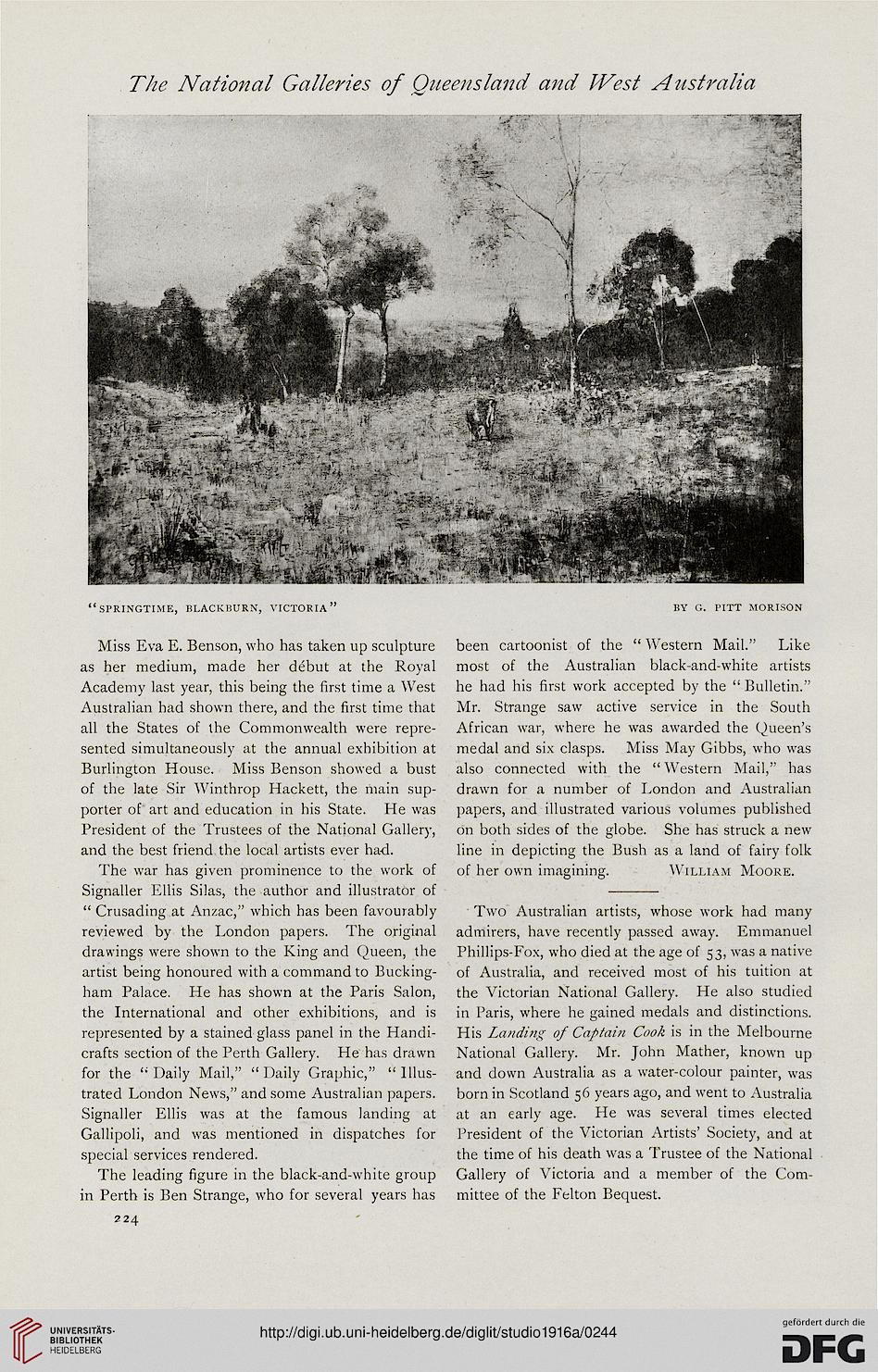 as her medium, made her debut at the Royal
Academy last year, this being the first time a West
Australian had shown there, and the first time that
all the States of the Commonwealth were repre-
sented simultaneously at the annual exhibition at
Burlington House. Miss Benson showed a bust
of the late Sir Winthrop Hackett, the main sup-
porter of art and education in his State. He was
President of the Trustees of the National Gallery,
and the best friend the local artists ever had.

The war has given prominence to the work of
Signaller Ellis Silas, the author and illustrator of
" Crusading at An/.ac," which has been favourably
reviewed by the London papers. The original
drawings were shown to the King and Queen, the
artist being honoured with a command to Bucking-
ham Palace. He has shown at the Paris Salon,
the International and other exhibitions, and is
represented by a stained glass panel in the Handi-
crafts section of the Perth Gallery. He has drawn
for the "Daily Mail," "Daily Graphic," "Illus-
trated London News," and some Australian papers.
Signaller Ellis was at the famous landing at
Gallipoli, and was mentioned in dispatches for
special services rendered.

The leading figure in the black-and-white group
in Perth is Ben Strange, who for several years has

been cartoonist of the " Western Mail." Like
most of the Australian black-and-white artists
he had his first work accepted by the " Bulletin."
Mr. Strange saw active service in the South
African war, where he was awarded the Queen's
medal and six clasps. Miss May Gibbs, who was
also connected with the "Western Mail," has
drawn for a number of London and Australian
papers, and illustrated various volumes published
on both sides of the globe. She has struck a new
line in depicting the Bush as a land of fairy folk
of her own imagining. William Moore.

Two Australian artists, whose work had many
admirers, have recently passed away. Emmanuel
Phillips-Fox, who died at the age of 53, was a native
of Australia, and received most of his tuition at
the Victorian National Gallery. He also studied
in Paris, where he gained medals and distinctions.
His Landing of Captain Cook is in the Melbourne
National Gallery. Mr. John Mather, known up
and down Australia as a water-colour painter, was
born in Scotland 56 years ago, and went to Australia
at an early age. He was several times elected
President of the Victorian Artists' Society, and at
the time of his death was a Trustee of the National
Gallery of Victoria and a member of the Com-
mittee of the Felton Bequest.