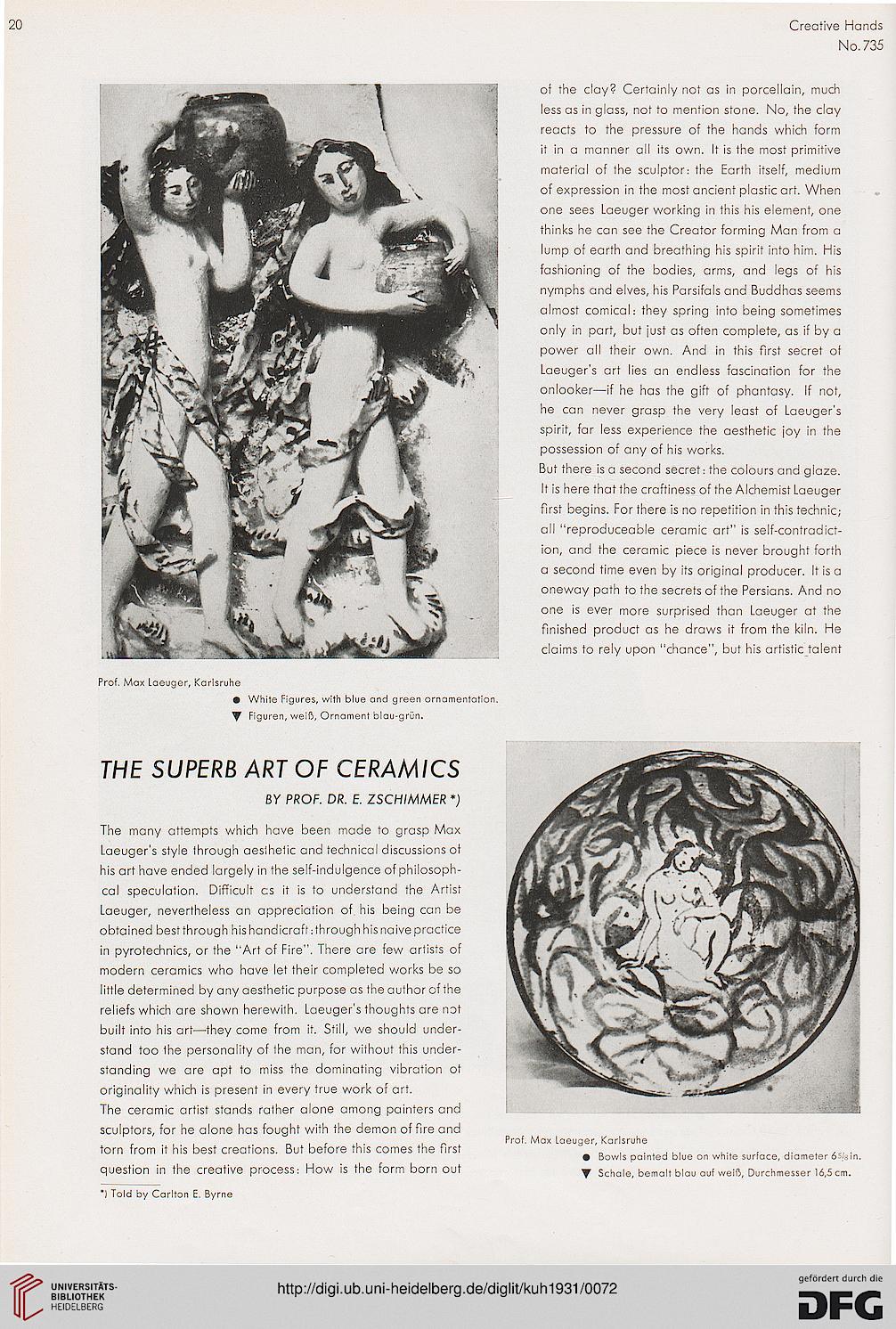 • White Figures, with blue and green ornamentation.
T Figuren, weiß, Ornament blau-grün.

THE SUPERB ART OF CERAMICS

BY PROF. DR. E. ZSCHIMMER *)

The many attempts which have been made to grasp Max
Laeuger's style Ihrough aesihetic and technical discussions ot
his art have ended largely in the self-indulgence of philosoph-
cal speculation. Difficult es it is to understand the Artist
Laeuger, nevertheless an appreciation of. his being can be
obtained bestthrough hishandicrafhthrough his naive practice
in pyrotechnics, or the "Art of Fire". There are few artists of
modern ceramics who have let their completed works be so
little determined by any aesthetic purpose as the author of the
reliefs which are shown herewith. Laeuger's thoughts are not
built into his art—they come from it. Still, we should under-
stand too 1he personality of 1he man, for without this under-
standing we are apt to miss the dominating Vibration ot
originality which is present in every true work of art.
The ceramic artist Stands rather alone among painters and
sculptors, for he alone has fought with the demon of fire and
torn from it his best creations. But before this comes the first
question in the creative process: How is the form born out

*) Told by Carlton E. Byrne

Creative Hands
No. 735

of the clay? Certainly not as in porcellain, much
less as in glass, not to mention stone. No, the clay
reacts to the pressure of the hands which form
it in a manner all its own. It is the most primitive
material of the sculptor: the Earth itself, medium
of expression in the most ancient plastic art. When
one sees Laeuger working in this his element, one
thinks he can see the Creator forming Man from a
lump of earth and breathing his spirit into him. His
fashioning of the bodies, arms, and legs of his
nymphs and elves, his Parsifals and Buddhas seems
almosf comical: they spring into being sometimes
only in part, but just as often complete, as if by a
power all their own. And in this first secret of
Laeuger's art lies an endless fascination for the
onlooker—if he has the gift of phantasy. If not,
he can never grasp the very least of Laeuger's
spirit, far less experience the aesthetic joy in the
possession of any of his works.
But there is a second secret: the colours and glaze.
It is here that the craftiness of the Alchemist Laeuger
first begins. For there is no repetition in this technic;
all "reproduceable ceramic art" is self-contradict-
ion, and the ceramic piece is never brought forth
a second time even by its original producer. It is a
oneway path to the secrets of the Persians. And no
one is ever more surprised than Laeuger at the
finished produet as he draws it from the kiln. He
claims to rely upon "chance", but his artistic talent

Prof. Max Laeuger, Karlsruhe

• Bowls painted blue on white surface, diameter ös/gin.
▼ Schale, bemalt blau auf weiß, Durchmesser 16,5 cm.