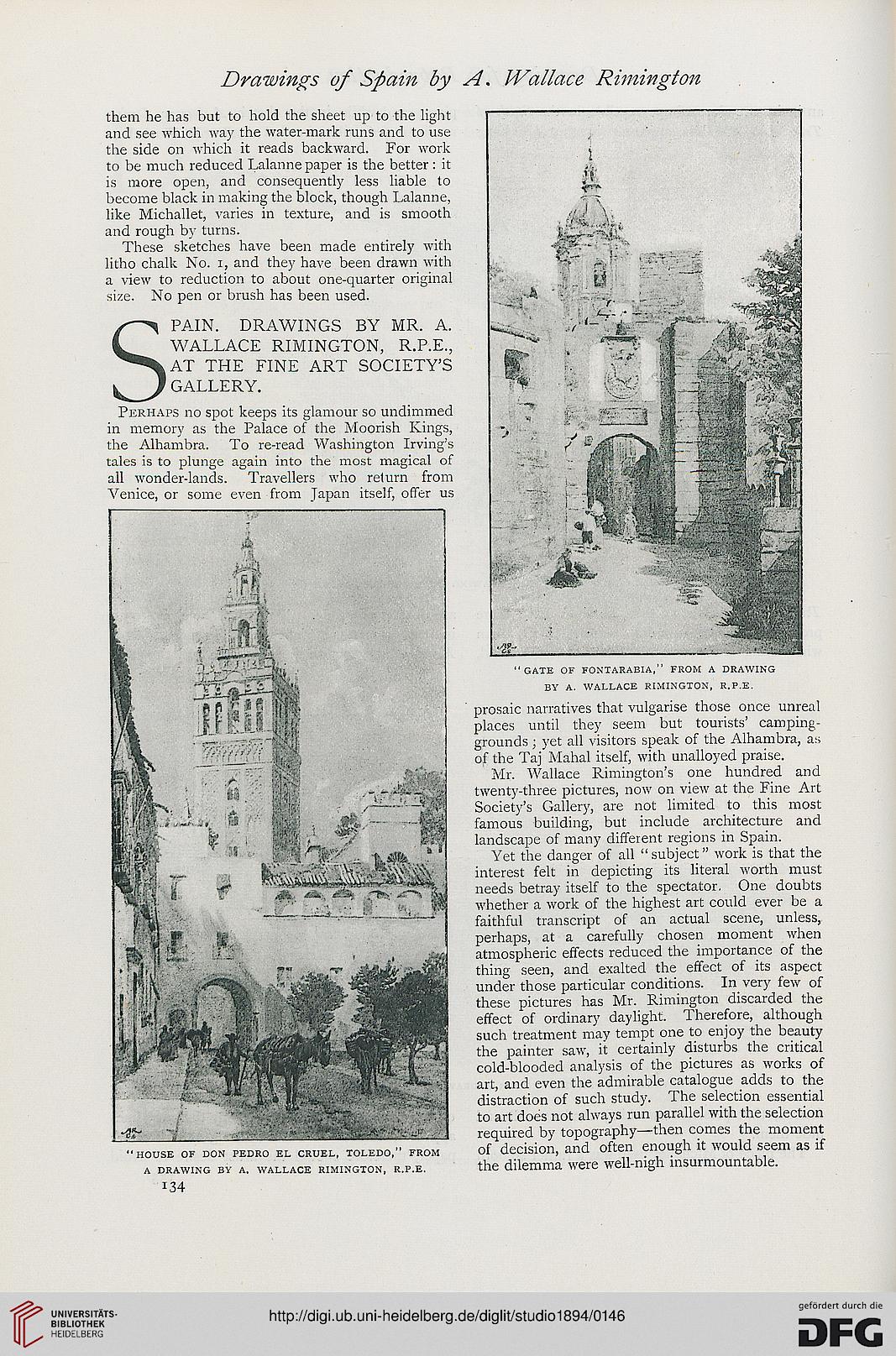 them he has but to hold the sheet up to the light
and see which way the water-mark runs and to use
the side on which it reads backward. For work
to be much reduced Lalanne paper is the better: it
is more open, and consequently less liable to
become black in making the block, though Lalanne,
like Michallet, varies in texture, and is smooth
and rough by turns.

These sketches have been made entirely with
litho chalk No. i, and they have been drawn with
a view to reduction to about one-quarter original
size. No pen or brush has been used.

PAIN. DRAWINGS BY MR. A.
WALLACE RIMINGTON, R.P.E.,
AT THE FINE ART SOCIETY'S
GALLERY.

Perhaps no spot keeps its glamour so undimmed
in memory as the Palace of the Moorish Kings,
the Alhambra. To re-read Washington Irving's
tales is to plunge again into the most magical of
all wonder-lands. Travellers who return from
Venice, or some even from Japan itself, offer us

5 >

"HOUSE OF DON PEDRO EL CRUEL, TOLEDO," FROM
A DRAWING BY A. WALLACE RIMINGTON, R.P.E.
134

"GATE OF FONTARABIA," FROM A DRAWING
BY A. WALLACE RIMINGTON, R.P.E.

prosaic narratives that vulgarise those once unreal
places until they seem but tourists' camping-
grounds ; yet all visitors speak of the Alhambra, as
of the Taj Mahal itself, with unalloyed praise.

Mr. Wallace Rimington's one hundred and
twenty-three pictures, now on view at the Fine Art
Society's Gallery, are not limited to this most
famous building, but include architecture and
landscape of many different regions in Spain.

Yet the danger of all "subject" work is that the
interest felt in depicting its literal worth must
needs betray itself to the spectator. One doubts
whether a work of the highest art could ever be a
faithful transcript of an actual scene, unless,
perhaps, at a carefully chosen moment when
atmospheric effects reduced the importance of the
thing seen, and exalted the effect of its aspect
under those particular conditions. In very few of
these pictures has Mr. Rimington discarded the
effect of ordinary daylight. Therefore, although
such treatment may tempt one to enjoy the beauty
the painter saw, it certainly disturbs the critical
cold-blooded analysis of the pictures as works of
art, and even the admirable catalogue adds to the
distraction of such study. The selection essential
to art does not always run parallel with the selection
required by topography—then comes the moment
of decision, and often enough it would seem as if
the dilemma were well-nigh insurmountable.