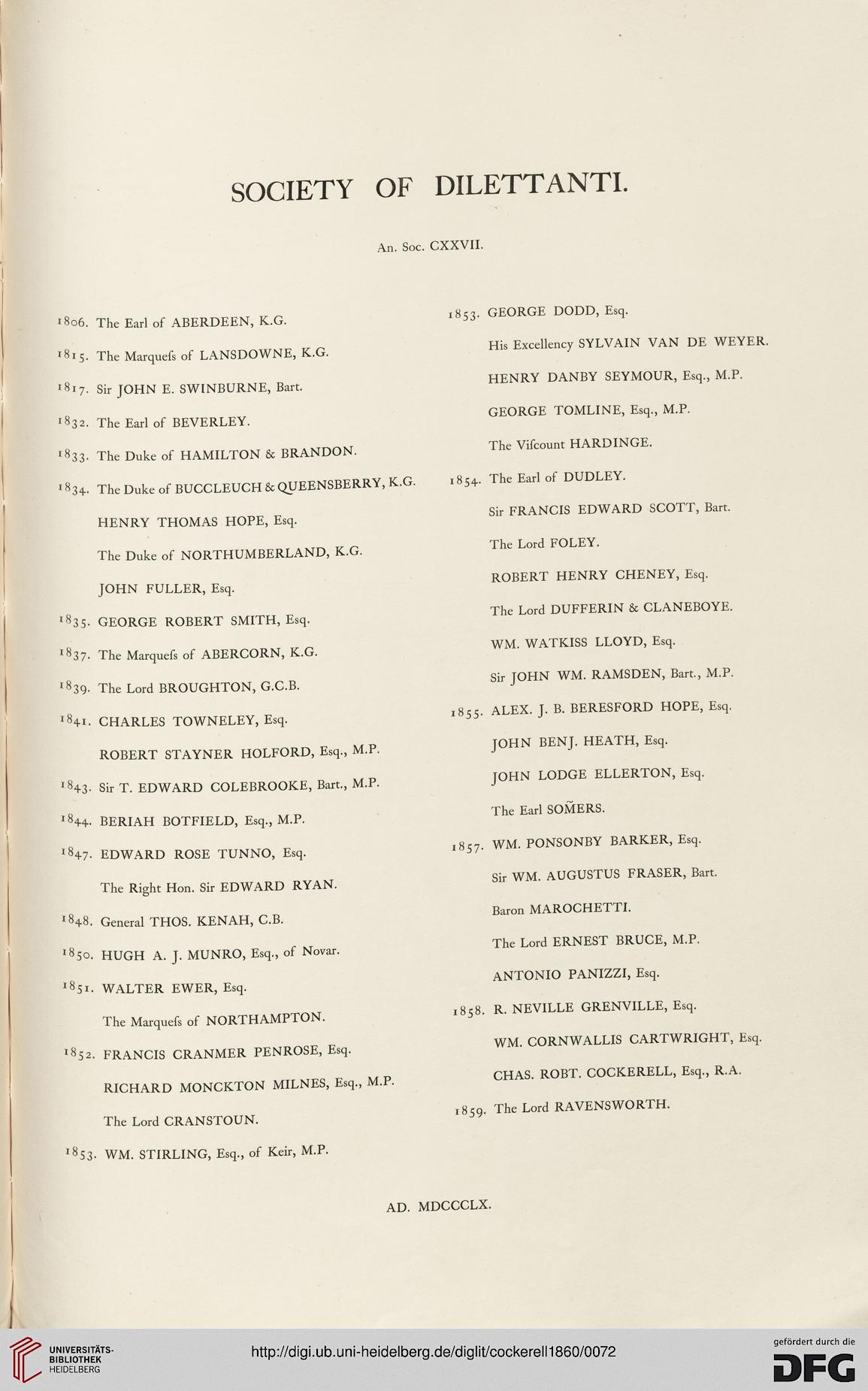 An. Soc. CXXVII.

1806. The Earl of ABERDEEN, K.G.
x8i5. The Marquefs of LANSDOWNE, K.G.
J8i7. Sir JOHN E. SWINBURNE, Bart.
J832. The Earl of BEVERLEY.

1833. The Duke of HAMILTON & BRANDON.

1834. The Duke of BUCCLEUCH & QUEENSBERRY, K.G.
HENRY THOMAS HOPE, Esq.

The Duke of NORTHUMBERLAND, K.G.
JOHN FULLER, Esq.

1835. GEORGE ROBERT SMITH, Esq.
r837- The Marquefs of ABERCORN, K.G.
1839- The Lord BROUGHTON, G.C.B.
l84i. CHARLES TOWNELEY, Esq.

ROBERT STAYNER HOLFORD, Esq., M.P.
l843- Sir T. EDWARD COLEBROOKE, Bart., M.P.
l844. BERIAH BOTFIELD, Esq., M.P.
l847- EDWARD ROSE TUNNO, Esq.

The Right Hon. Sir EDWARD RYAN.
J848. General THOS. KENAH, C.B.

18

5o. HUGH A. J. MUNRO, Esq., of Novar.

l85i. WALTER EWER, Esq.

The Marquefs of NORTHAMPTON.
r852. FRANCIS CRANMER PENROSE, Esq.

RICHARD MONCKTON MILNES, Esq., M.P.

The Lord CRANSTOUN.
l853- WM. STIRLING, Esq., of Keir, M.P.

1853. GEORGE DODD, Esq.

His Excellency SYLVAIN VAN DE WEYER.
HENRY DANBY SEYMOUR, Esq., M.P.
GEORGE TOMLINE, Esq., M.P.
The Vifcount HARDINGE.

1854. The Earl of DUDLEY.

Sir FRANCIS EDWARD SCOTT, Bart.

The Lord FOLEY.

ROBERT HENRY CHENEY, Esq.

The Lord DUFFERIN & CLANEBOYE.

WM. WATKISS LLOYD, Esq.

Sir JOHN WM. RAMSDEN, Bart., M.P.

1855. ALEX. J. B. BERESFORD HOPE, Esq.
JOHN BENJ. HEATH, Esq.

JOHN LODGE ELLERTON, Esq.
The Earl SOMERS.

1857. WM. PONSONBY BARKER, Esq.
Sir WM. AUGUSTUS FRASER, Bart.
Baron MAROCHETTI.

The Lord ERNEST BRUCE, M.P.
ANTONIO PANIZZI, Esq.

1858. R.NEVILLE GRENVILLE, Esq.

WM. CORNWALLIS CARTWRIGHT, Esq.
CHAS. ROBT. COCKERELL, Esq., R.A.
!859. The Lord RAVENSWORTH.

AD. MDCCCLX.