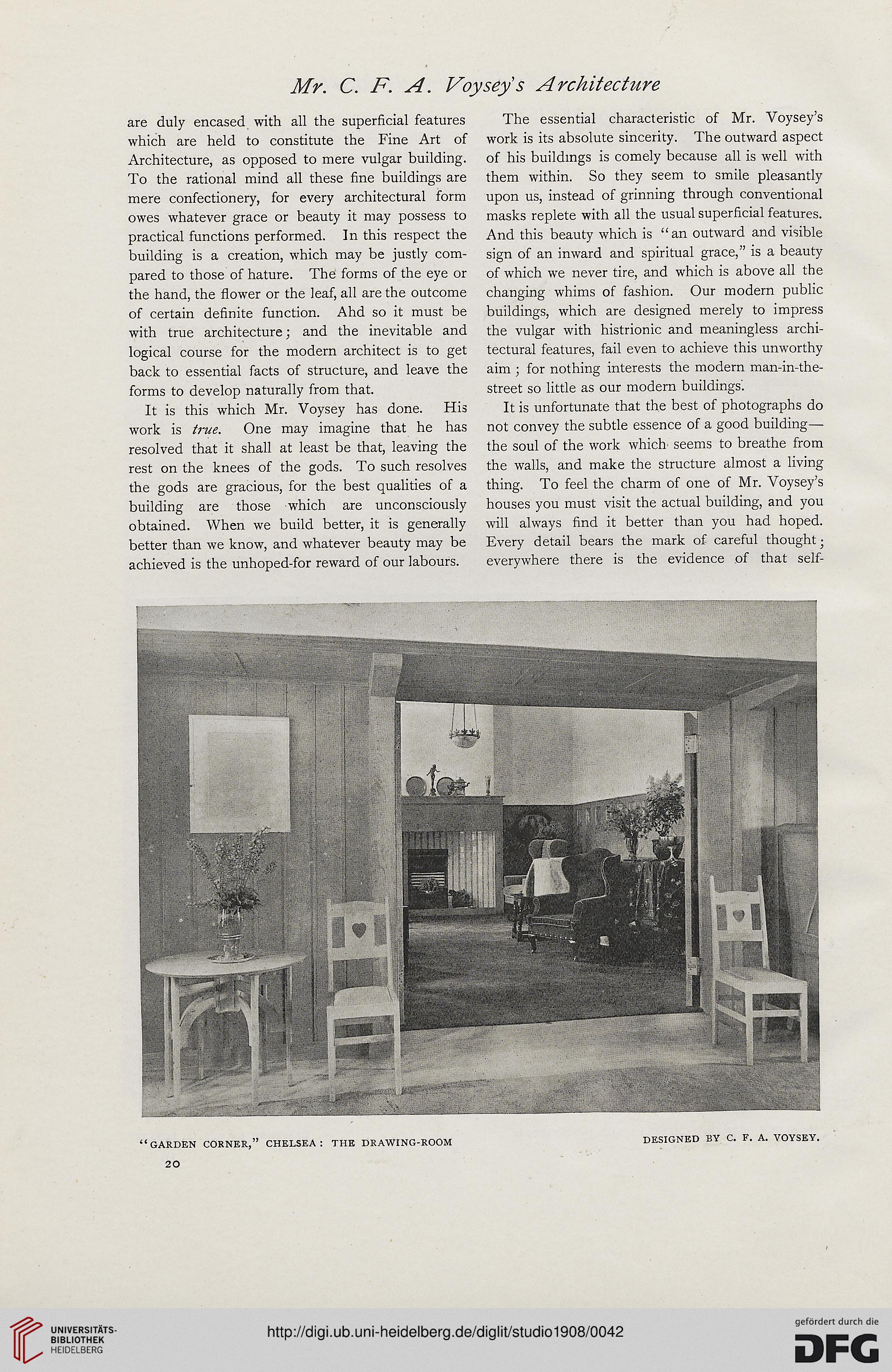 are duly encased with all the superficial features
which are held to constitute the Fine Art of
Architecture, as opposed to mere vulgar building.
To the rational mind all these fine buildings are
mere confectionery, for every architectural form
owes whatever grace or beauty it may possess to
practical functions performed. In this respect the
building is a creation, which may be justly com-
pared to those of hature. The forms of the eye or
the hand, the flower or the leaf, all are the outcome
of certain definite function. Ahd so it must be
with true architecture; and the inevitable and
logical course for the modern architect is to get
back to essential facts of structure, and leave the
forms to develop naturally from that.

It is this which Mr. Voysey has done. His
work is true. One may imagine that he has
resolved that it shall at least be that, leaving the
rest on the knees of the gods. To such resolves
the gods are gracious, for the best qualities of a
building are those which are unconsciously
obtained. When we build better, it is generally
better than we know, and whatever beauty may be
achieved is the unhoped-for reward of our labours.

The essential characteristic of Mr. Voysey's
work is its absolute sincerity. The outward aspect
of his buildings is comely because all is well with
them within. So they seem to smile pleasantly
upon us, instead of grinning through conventional
masks replete with all the usual superficial features.
And this beauty which is "an outward and visible
sign of an inward and spiritual grace," is a beauty
of which we never tire, and which is above all the
changing whims of fashion. Our modern public
buildings, which are designed merely to impress
the vulgar with histrionic and meaningless archi-
tectural features, fail even to achieve this unworthy
aim ; for nothing interests the modern man-in-the-
street so little as our modern buildings'.

It is unfortunate that the best of photographs do
not convey the subtle essence of a good building—
the soul of the work which seems to breathe from
the walls, and make the structure almost a living
thing. To feel the charm of one of Mr. Voysey's
houses you must visit the actual building, and you
will always find it better than you had hoped.
Every detail bears the mark of careful thought •
everywhere there is the evidence of that self-

" GARDEN CORNER," CHELSEA : THE DRAWING-ROOM
20

DESIGNED BY C. F. A. VOYSEY.