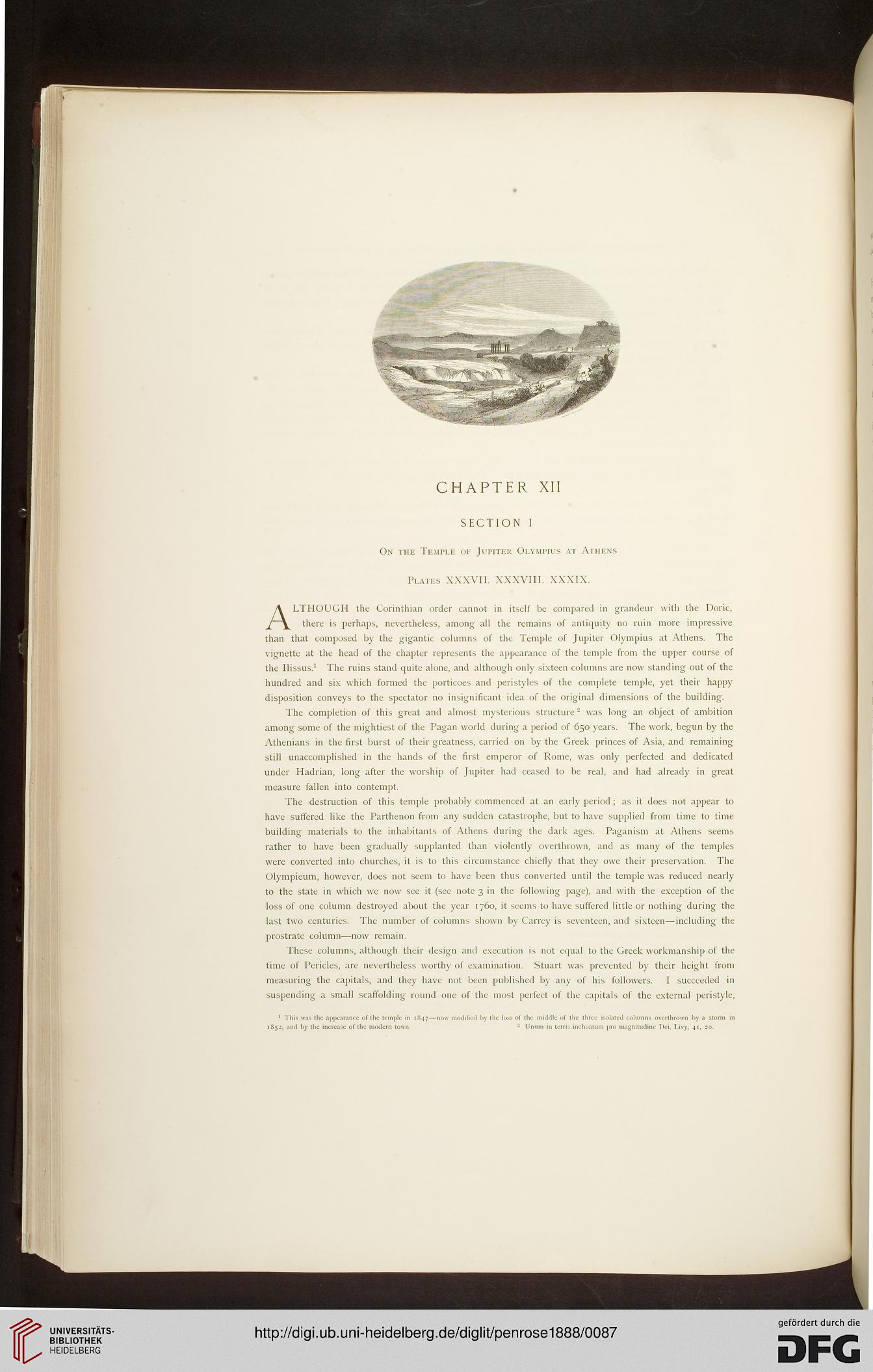 SECTION I

On the Temple of Jupiter Olympius at Athens

Plates XXXVII. XXXVIII. XXXIX.

ALTHOUGH the Corinthian order cannot in itself be compared in grandeur with the Doric,
there is perhaps, nevertheless, among all the remains of antiquity no ruin more impressive
than that composed by the gigantic columns of the Temple of Jupiter Olympius at Athens. The
vignette at the head of the chapter represents the appearance of the temple from the upper course of
the Ilissus.1 The ruins stand quite alone, and although only sixteen columns are now standing out of the
hundred and six which formed the porticoes and peristyles of the complete temple, yet their happy-
disposition conveys to the spectator no insignificant idea of the original dimensions of the building.

The completion of this great and almost mysterious structure2 was long an object of ambition
among some of the mightiest of the Pagan world during a period of 650 years. The work, begun by the
Athenians in the first burst of their greatness, carried on by the Greek princes of Asia, and remaining
still unaccomplished in the hands of the first emperor of Rome, was only perfected and dedicated
under Hadrian, long after the worship of Jupiter had ceased to be real, and had already in great
measure fallen into contempt.

The destruction of this temple probably commenced at an early period ; as it does not appear to
have suffered like the Parthenon from any sudden catastrophe, but to have supplied from time to time
building materials to the inhabitants of Athens during the dark ages. Paganism at Athens seems
rather to have been gradually supplanted than violently overthrown, and as many of the temples
were converted into churches, it is to this circumstance chiefly that they owe their preservation. The
Olympicum, however, does not seem to have been thus converted until the temple was reduced nearly
to the state in which wc now see it (see note 3 in the following page), and with the exception of the
loss of one column destroyed about the year 1760, it seems to have suffered little or nothing during the
last two centuries. The number of columns shown by Carrey is seventeen, and sixteen—including the
prostrate column—now remain.

These columns, although their design and execution is not equal to the Greek workmanship of the
time of Pericles, are nevertheless worthy of examination. Stuart was prevented by their height from
measuring the capitals, and they have not been published by any of his followers. I succeeded in
suspending a small scaffolding round one of the most perfect of the capitals of the external peristyle,

1 This was the appearance of Ihe temple in 1847—now modified by the loss or the middle of the three isolated columns overthrown by a storm in
1852, and by the increase of the modern town. 2 Untini in terris inchoatum pro magnitudine Dei, Livy, 41, 20.