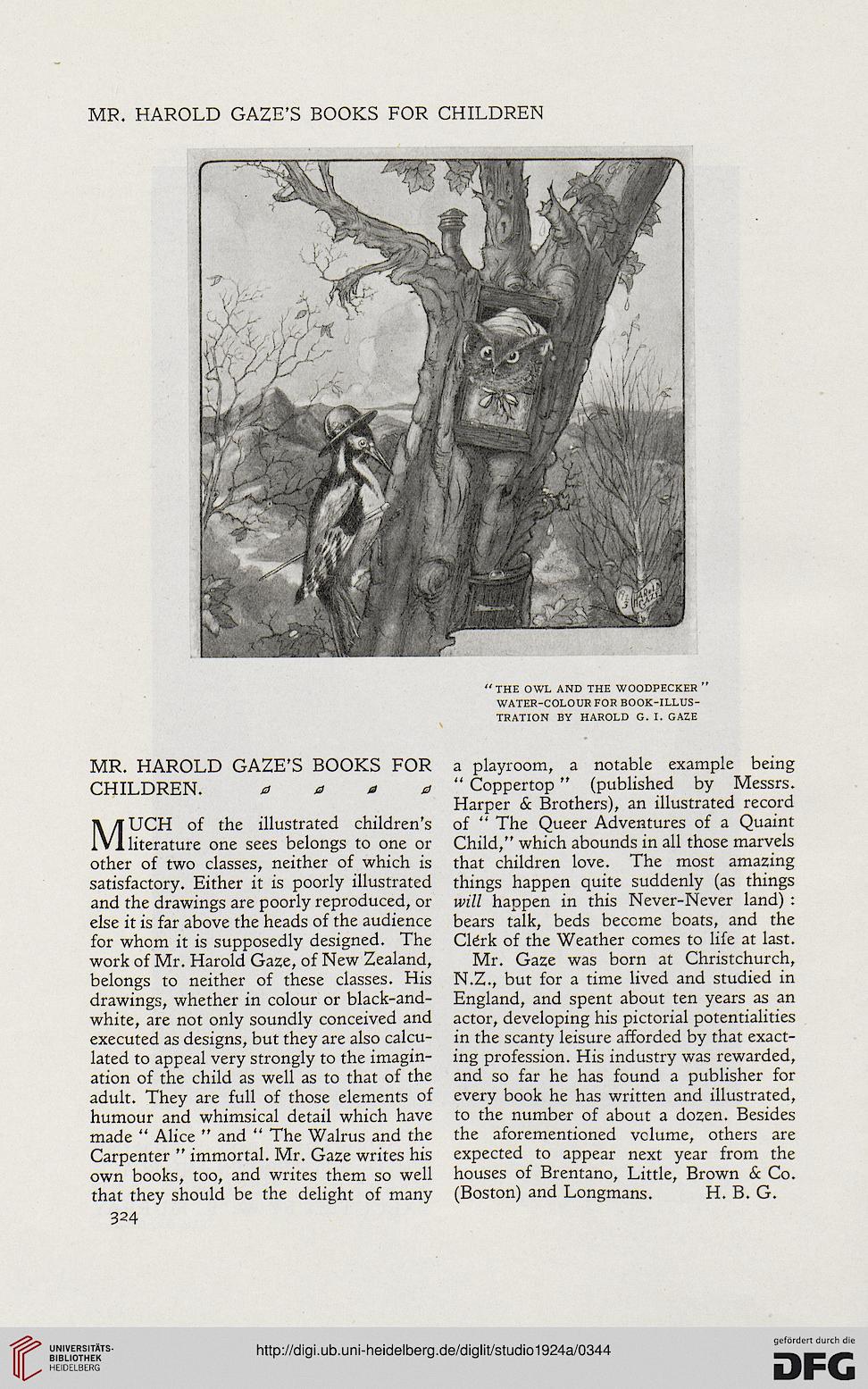 "THE OWL AND THE WOODPECKER "
WATER-COLOUR FOR BOOK-ILLUS-
TRATION BY HAROLD G.I. GAZE

MR. HAROLD GAZE'S BOOKS FOR
CHILDREN. a a a a

MUCH of the illustrated children's
literature one sees belongs to one or
other of two classes, neither of which is
satisfactory. Either it is poorly illustrated
and the drawings are poorly reproduced, or
else it is far above the heads of the audience
for whom it is supposedly designed. The
work of Mr. Harold Gaze, of New Zealand,
belongs to neither of these classes. His
drawings, whether in colour or black-and-
white, are not only soundly conceived and
executed as designs, but they are also calcu-
lated to appeal very strongly to the imagin-
ation of the child as well as to that of the
adult. They are full of those elements of
humour and whimsical detail which have
made " Alice " and " The Walrus and the
Carpenter " immortal. Mr. Gaze writes his
own books, too, and writes them so well
that they should be the delight of many
324

a playroom, a notable example being
" Coppertop" (published by Messrs.
Harper & Brothers), an illustrated record
of " The Queer Adventures of a Quaint
Child," which abounds in all those marvels
that children love. The most amazing
things happen quite suddenly (as things
will happen in this Never-Never land) :
bears talk, beds become boats, and the
Cle"rk of the Weather comes to life at last.

Mr. Gaze was born at Christchurch,
N.Z., but for a time lived and studied in
England, and spent about ten years as an
actor, developing his pictorial potentialities
in the scanty leisure afforded by that exact-
ing profession. His industry was rewarded,
and so far he has found a publisher for
every book he has written and illustrated,
to the number of about a dozen. Besides
the aforementioned vclume, others are
expected to appear next year from the
houses of Brentano, Little, Brown & Co.
(Boston) and Longmans. H. B. G.