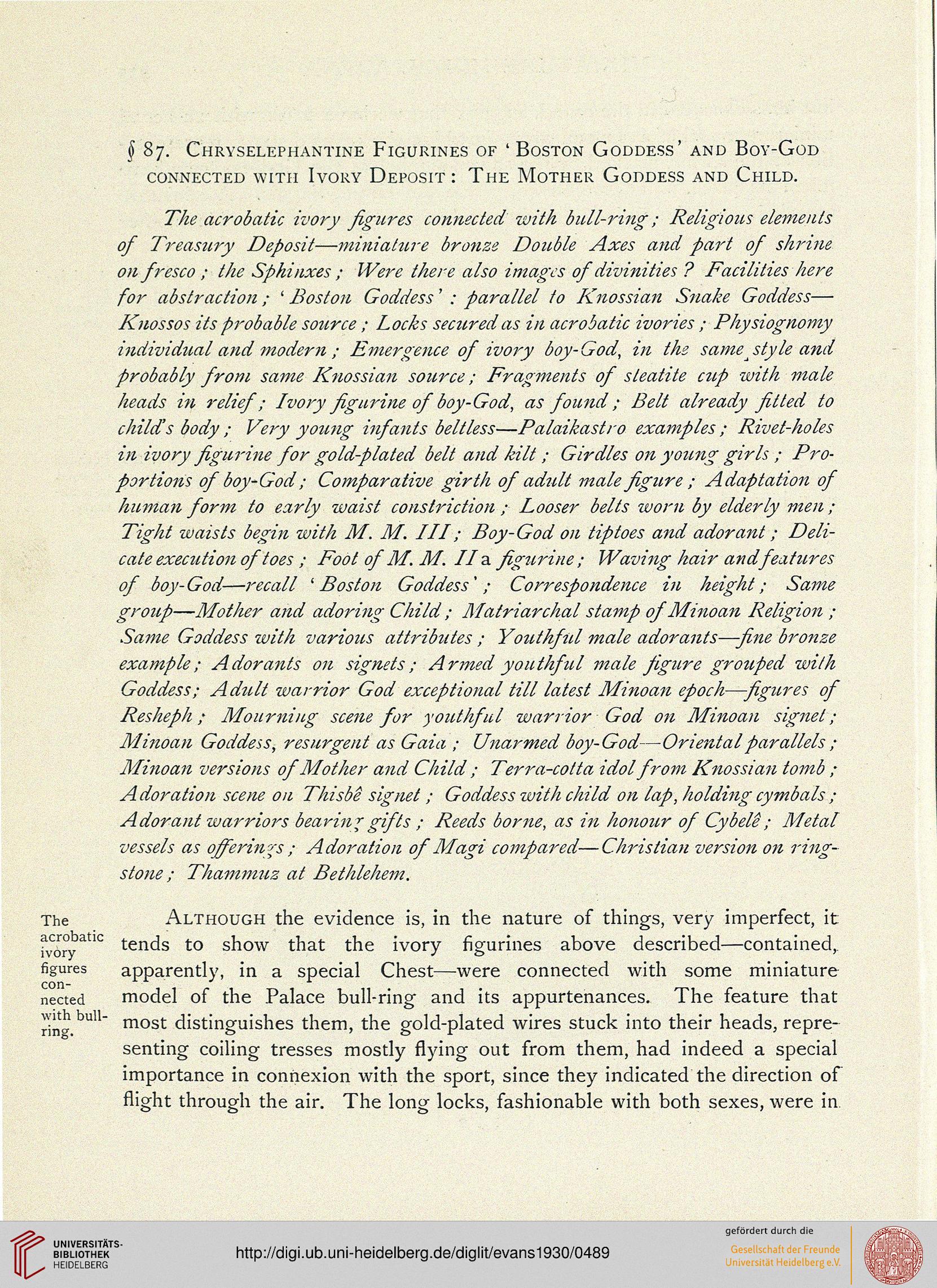 CONNECTED WITH IVORY DEPOSIT : The MOTHER GODDESS AND CHILD.

The acrobatic ivory figures connected -with bull-ring; Religious elements
of Treasury Deposit—miniature bronze Double Axes and part of shrine
on fresco ; the Sphinxes ; Were there also images of divinities ? Facilities here
for abstraction ; ' Boston Goddess' : parallel to Knossian Snake Goddess—
Knossos its probable source ; Locks secured as in acrobatic ivories ; Physiognomy
individual and modem ; Emergence of ivory boy-God, in the same jtyle and
probably from same Knossian source; Fragments of steatite cup with male
heads in relief; Ivory figurine of boy-God, as found; Belt already fitted to
child's body ; Very young infants beltless—Palaikastro examples ; Rivet-holes
in ivory figurine for gold-plated belt and kilt; Girdles on young girls ; Pro-
portions of boy-God; Comparative girth of adult male figure ; Adaptation of
human form to early waist constriction ; Looser belts worn by elderly men ;
Tight waists begin with M. M. Ill; Boy-God on tiptoes and adorant; Deli-
cate execution of toes ; Foot of M. M. IIra figurine; Waving hair and features
of boy-God—recall 'Boston Goddess'; Correspondence in height; Same
group—Mother and adoring Child ; Matriarchal stamp of Minoan Religion ;
Same Goddess zvith various attribtttes ; Youthful male adorants—-fine bronze
example; Adorants on signets; Armed youthful male figure grotiped with
Goddess; Adult warrior God exceptional till latest Minoan epoch—figures of
Reskeph; Mourning scene for youthful wanior God on Minoan signet;
Minoan Goddess, resurgent as Gaia ; Unarmed boy-God—Oriental parallels ;
Minoan versions of Mother and Child ; Terra-cotta idol from Knossian tomb ;
Adoration scene on Thisbl; signet ; Goddess with child on lap, holding cymbals ;
Adorant warriors bearing gifts ; Reeds borne, as in honour of Cybeli; Metal
vessels as offerings ; Adoration of Magi compared—Christian version on ring-
stone ; Thammuz at Bethlehem.

The Although the evidence is, in the nature of things, very imperfect, it

ivoryatl° tends to show that the ivory figurines above described—contained,
figures apparently, in a special Chest—were connected with some miniature
nected model of the Palace bull-ring and its appurtenances. The feature that
most distinguishes them, the gold-plated wires stuck into their heads, repre-
senting coiling tresses mostly flying out from them, had indeed a special
importance in connexion with the sport, since they indicated the direction of
flight through the air. The long locks, fashionable with both sexes, were in

with bull
ring.