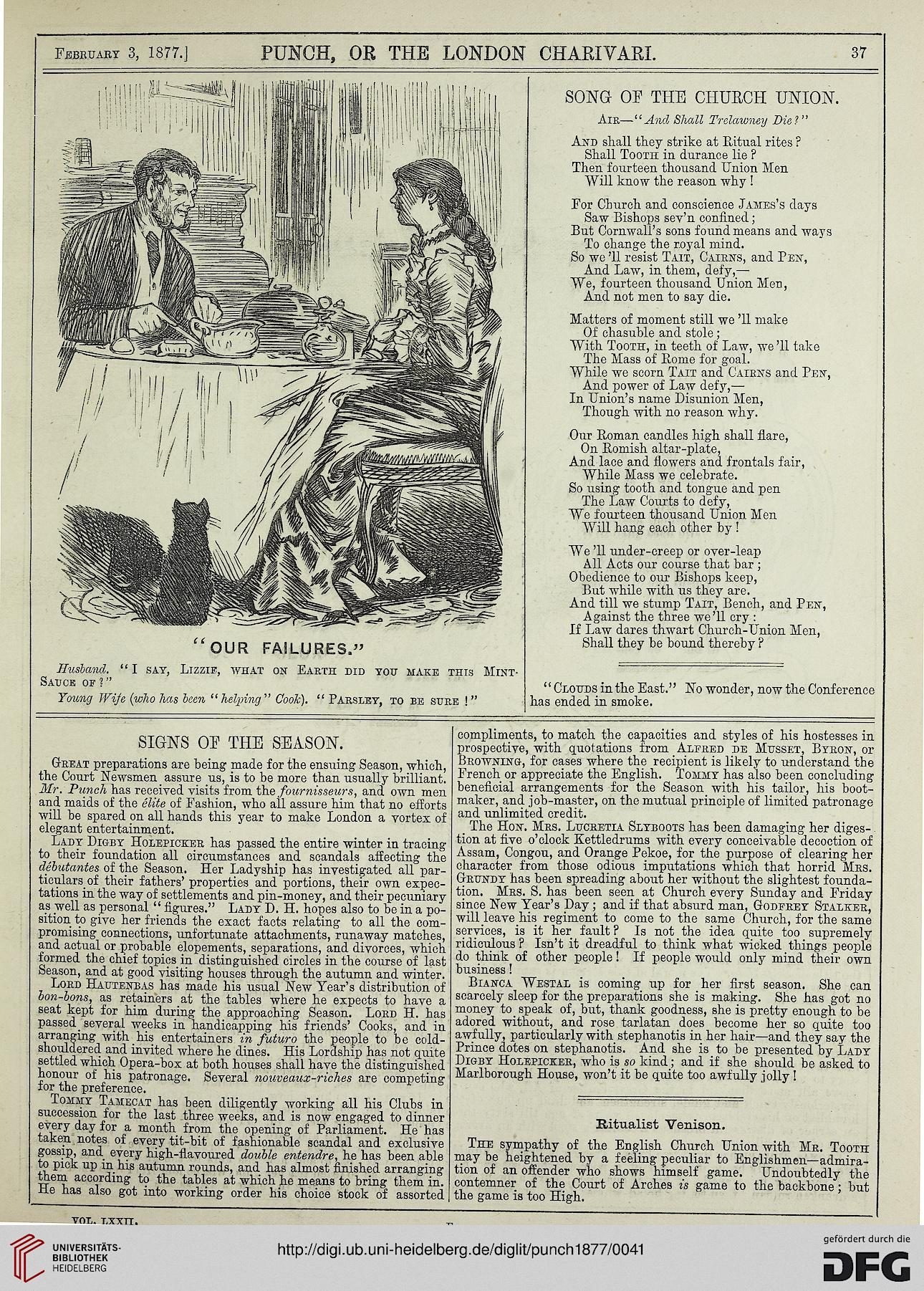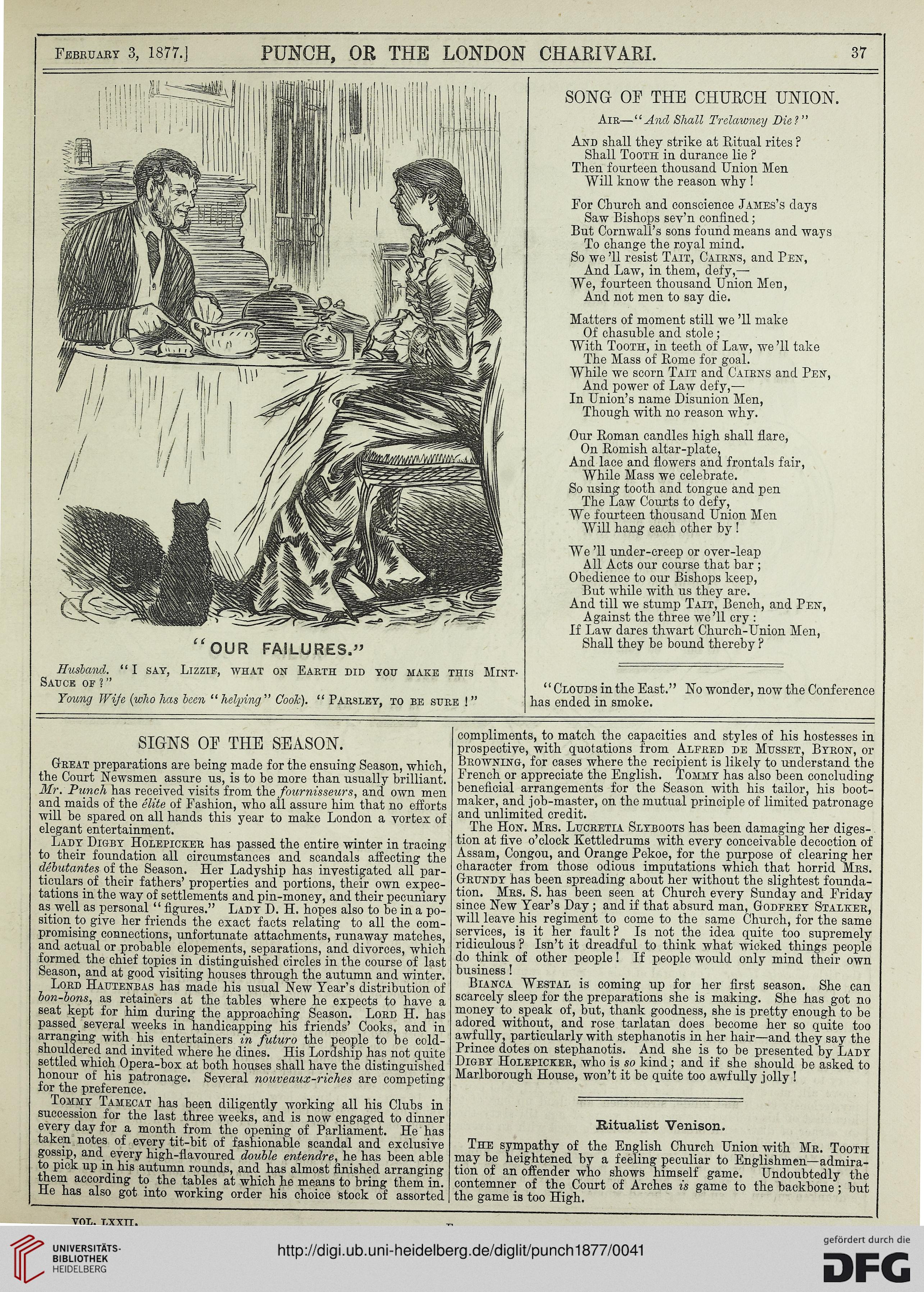 " OUR FAILURES."

Husband. " I say, Lizzie, what on Earth did you make this Mint-
Sauce of ?"

Young Wife (who has been "helping" Cook). " Parsley, to be sure ! "

SONG OF THE CHURCH UNION.

Air—"And Shall Trelawney Die?- "

And shall they strike at Ritual rites ?

Shall Tooth in durance lie ?
Then fourteen thousand Union Men

Will know the reason why !

For Church and conscience James's days

Saw Bishops sev'n confined;
But Cornwall's sons found means and ways

To change the royal mind.
So we '11 resist Tait, Cairns, and Pen,

And Law, in them, defy,—
"We, fourteen thousand Union Men,

And not men to say die.

Matters of moment still we '11 make

Of chasuble and stole;
With Tooth, in teeth of Law, we '11 take

The Mass of Rome for goal.
While we scorn Tait and Cairns and Pen,

And power of Law defy,—
In Union's name Disunion Men,

Though with no reason why.

Our Roman candles high shall flare,

On Romish altar-plate,
And lace and flowers and frontals fair,

While Mass we celebrate.
So using tooth and tongue and pen

The Law Courts to defy,
We fourteen thousand Union Men

Will hang each other by !

We '11 under-creep or over-leap

All Acts our course that bar ;
Obedience to our Bishops keep,

But while with us they are.
And till we stump Tait, Bench, and Pen,

Against the three we'll cry :
If Law dares thwart Church-Union Men,

Shall they be bound thereby ?

"Clouds in the East." No wonder, now the Conference
has ended in smoke.

SIGNS OF THE SEASON.

Great preparations are being made for the ensuing Season, which,
the Court Newsmen assure us, is to be more than usually brilliant.
Mr. Punch has received visits from the fournissenrs, and own men
and maids of the elite of Fashion, who all assure him that no efforts
will be spared on all hands this year to make London a vortex of
elegant entertainment.

Lady Digby Holepicker has passed the entire winter in tracing
to_ their foundation all circumstances and scandals affecting the
debutantes of the Season. Her Ladyship has investigated all par-
ticular of their fathers' properties and portions, their own expec-
tations in the way of settlements and pin-money, and their pecuniary
as well as personal " figures." Lady D. H. hopes also to be in a po-
sition to give her friends the exact facts relating to all the com-
promising connections, unfortunate attachments, runaway matches,
and actual or probable elopements, separations, and divorces, which
formed the chief topics in distinguished circles in the course of last
Season, and at good visiting houses through the autumn and winter.

Lord Hautenbas has made his usual New Year's distribution of
bon-bons, as retainers at the tables where he expects to have a
seat kept for him during the approaching Season. Lord H. has
passed _ several weeks in handicapping his friends' Cooks, and in
arranging with his entertainers in futuro the people to be cold-
shouldered and invited where he dines. His Lordship has not quite
settled which Opera-box at both houses shall have the distinguished
honour of his patronage. Several nouveaux-riches are competing
for the preference.

Tommy Tamecat has been diligently working all his Clubs in
succession for the last three weeks, and is now engaged to dinner
every day for a month from the opening of Parliament. He has
taken notes of every tit-bit of fashionable scandal and exclusive
gossip, and every high-flavoured double entendre, he has been able
to pick up in his autumn rounds, and has almost finished arranging
them according to the tables at which he means to bring them in.
He has also got into working order his choice stock of assorted

compliments, to match the capacities and styles of his hostesses in
prospective, with quotations from Alfred de Musset, Byron, or
Browning, for cases where the recipient is likely to understand the
French or appreciate the English. Tommy has also been concluding
beneficial arrangements for the Season with his tailor, his boot-
maker, and job-master, on the mutual principle of limited patronage
and unlimited credit.

The Hon. Mrs. Lucretia Slyboots has been damaging her diges-
tion at five o'clock Kettledrums with every conceivable decoction of
Assam, Congou, and Orange Pekoe, for the purpose of clearing her
character from those odious imputations which that horrid Mrs.
Grundy has been spreading about her without the slightest founda-
tion. Mrs. S. has been seen at Church every Sunday and Friday
since New Year's Day ; and if that absurd man, Godfrey Stalker,
will leave his regiment to come to the same Church, for the same
services, is it her fault ? Is not the idea quite too supremely
ridiculous ? Isn't it dreadful to think what wicked things people
do think of other people! If people would only mind their own
business!

Bianca Westal is coming up for her first season. She can
scarcely sleep for the preparations she is making. She has got no
money to speak of, but, thank goodness, she is pretty enough to be
adored without, and rose tarlatan does become her so quite too
awfully, particularly with stephanotis in her hair—and they say the
Prince dotes on stephanotis. And she is to be presented by Lady
Digby Holepicker, who is so kind; and if she should be asked to
Marlborough House, won't it be quite too awfully jolly!

Ritualist Venison.

The sympathy of the English Church Union with Mr. Tooth
may be heightened by a feeling peculiar to Englishmen—admira-
tion of an offender who shows himself game. Undoubtedly the
contemner of the Court of Arches is game to the backbone; but
the game is too High.

Werk/Gegenstand/Objekt
Titel
Titel/Objekt
Sachbegriff/Objekttyp
Inschrift/Wasserzeichen
Aufbewahrung/Standort
Aufbewahrungsort/Standort (GND)
Inv. Nr./Signatur
Objektbeschreibung
Maß-/Formatangaben
Auflage/Druckzustand
Werktitel/Werkverzeichnis
Herstellung/Entstehung
Künstler/Urheber/Hersteller (GND)
Entstehungsdatum
Entstehungsdatum (normiert)
Entstehungsort (GND)
Auftrag
Publikation
Fund/Ausgrabung
Provenienz
Restaurierung
Sammlung Eingang
Ausstellung
Bearbeitung/Umgestaltung
Thema/Bildinhalt
Thema/Bildinhalt (GND)
Literaturangabe
Rechte am Objekt
Aufnahmen/Reproduktionen