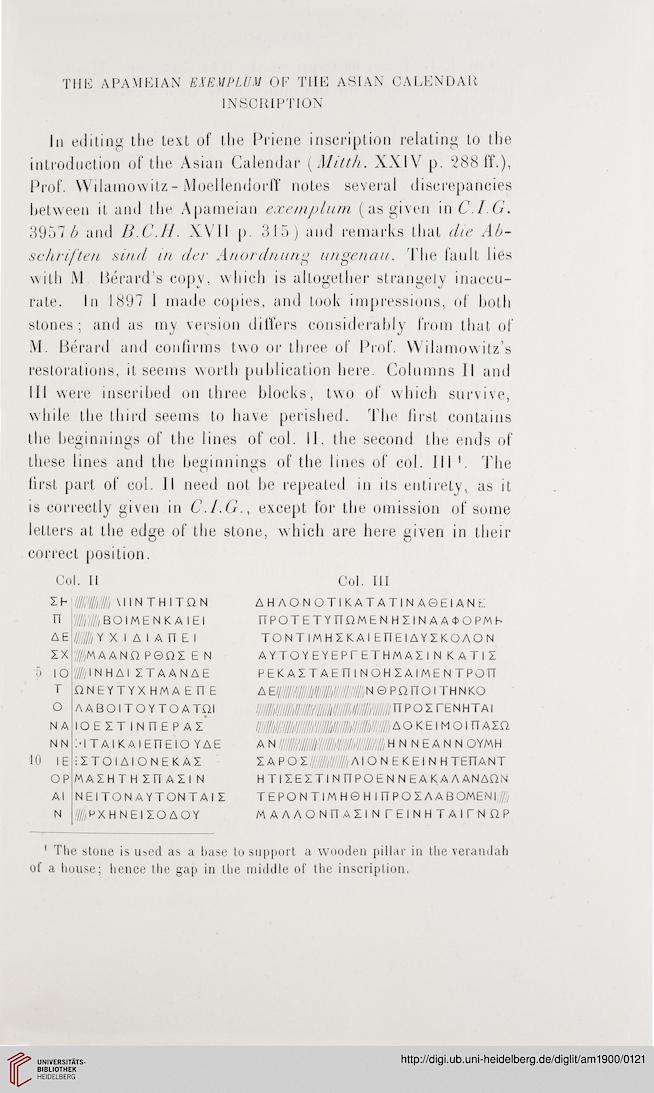 INSCRIPTION

in editing the text of tbe Priene inscription relating lo tbe
introduction of tlie Asian Calendar (Mitth. XXIV p. 288 ff.),
Prof. Wilamowitz- Moellendorff notes several discrepancies
between iL and tbe Apameian exeniplum (asgiven in C.I.G.
3957 b and B.C.H. XVII p. 315) and remarks ibal die Ab-
schriften sind in der Anordnung ungenau. Tbe fault lies
wilh M ßerard's copv, vvliich is altogetber strangely snaccu-
rale. In 1897 1 made copies, and Look impressions, of botb
slones ; and as my Version differs considerably from tbal of
M. Berard and confirms tvvo or tbree of Prof. Wiiamowitz's
restoralions, it seems worth publication liere. Columns II and
III vvere inscribed on tbree blocks, tvvo of wbicb survive,
wbile tbe tbird seems to have perisbed. Tbe lirst contains
tbe beginnings of tbe lines of col. II, tbe second tbe ends of
tbese lines and tbe beginnings of the lines of col. III Tbe
first part of col. II need not be repeated in iLs entirely, as it
is correctly given in C.i.G., except for tbe omission of some
letters at tbe edge of tbe stone, wbicb are here given in tbeir
correct position.

Col. II

Col. III

5

10

Σ h
π
ΔΕ
ΣΧ
ΙΟ
τ
ο
ΝΑ
ΝΝ
I Ε
ΟΡ
AI
Ν

I ΙΙΙΙΜΙΙΙΙι ΜΙΝΤΗΙΤΩΝ
IllhJjlll BO IΜ Ε Ν Κ Α I ΕI
II Μ Υ X I Δ I Α π Ε I
1/ΜΑΑΝΩΡΘΩΣ ΕΝ
Hill ΙΝΗΔΙ ΣΤΑΑΝΔΕ
ΩΝΕΥΤΥΧ ΗΜΑ Ε Π Ε
ΛΑΒΟΙΤ ΟΥΤ ΟΑΤΩΙ
ΙΟΕΣΤ ΙΝΠΕΡΑΣ
ΡΙΤΑΙΚΑΙΕΠΕΙΟΥΔΕ
:ςτοιδιονεκας
ΜΑΣΗΤΗ ΣΠΑΣΙ Ν
ΝΕΙΤΟΝ ΑΥΤΟΝΤΑΙ Σ
Ι//ΙΡΧ Η Ν ΕΙΣΟΔΟΥ

ΔΗΛΟΝΟΤΙΚΑΤΑΤΙΝΑΘΕΙΑΝΕ
ΠΡΟΤΕΤΥΠΩΜΕΝΗΣΙΝΑΑΦΟΡΜΡ·
ΤΟΝΤΙΜΗΣΚΑΙ ΕΠΕΙΔΥΣΚΟΛΟΝ
ΑΥΤΟΥΕΥΕΡΓΕΤΗΜΑΣΙΝ ΚΑΤΙΣ
ΡΕΚΑΣΤΑΕΠΙΝΟΗΣΑΙΜΕΝΤΡΟΠ
Δ Ε f/1/IlllN ΘΡΩΠΟΙΤΗΝ ΚΟ
Μβββββ π Ρ Ο Σ ΓΕΝΗΤΑΙ
βββ Κ ΕI Μ Ο I ΠΑΣΩ
Α Ν ηννεαννουμη
Σ Α Ρ Ο Σ IIHIIIiHllllli ΛΙΟΝΕΚΕΙΝΗ ΤΕΠΑΝΤ
ΗΤΙΣΕΣΤΙΝΠΡΟΕΝΝΕΑ Κ Α Λ ΑΝΔΩΝ
ΤΕΡΟΝΤΙΜΗΘΗ ΙΠΡΟΣΛΑΒΟΜΕΝΙ /,
ΜΑΛΛΟΝΤΤΑΣΙΝ ΓΕΙΝΗΤΑΙΓΝΩΡ

1 The stone is used as a base to Support a wooden pillar in the verandah
of a house; hence the gap in the middle of the inscription.