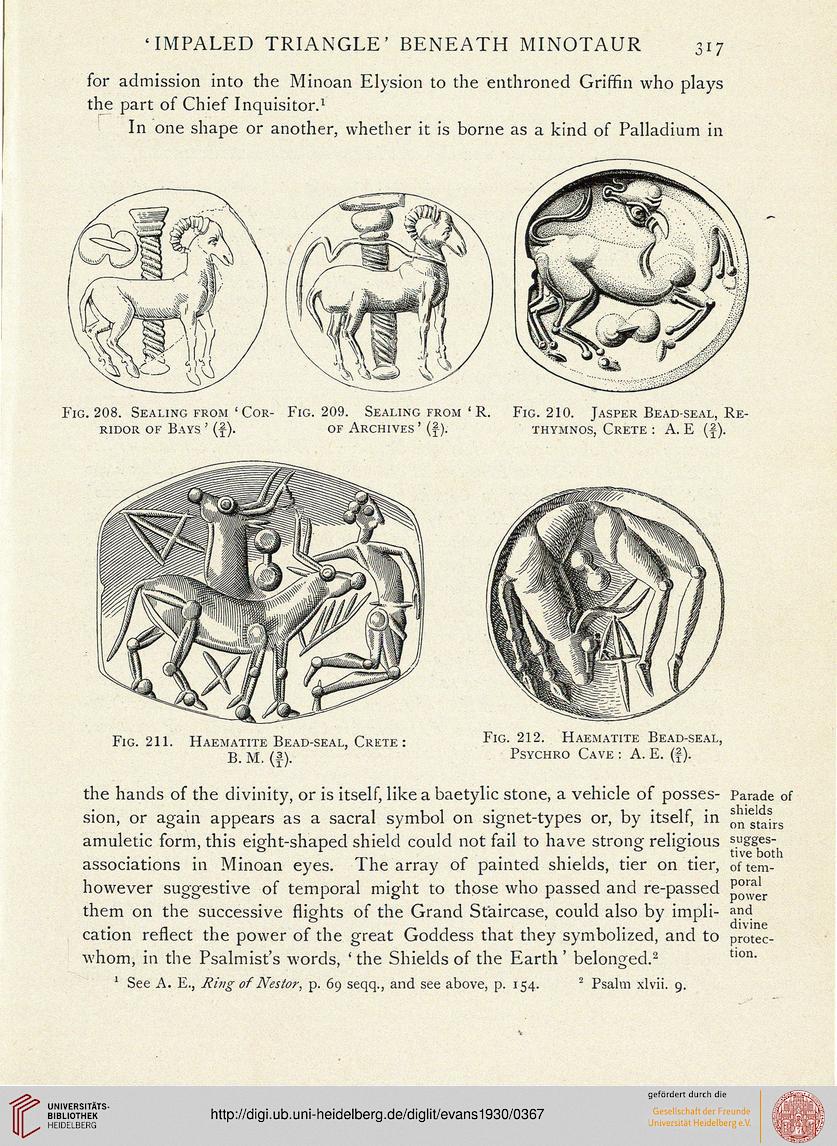 ii7

for admission into the Minoan Elysion to the enthroned Griffin who plays
the part of Chief Inquisitor.1

In one shape or another, whether it is borne as a kind of Palladium in

Fig. 208. Sealing from ' Cor- Fig. 209. Sealing from ' R. Fig. 210. Jasper Bead-seal, Re-
ridor of Bays ' (f). of Archives ' (f-). thymnos, Crete : A. E (f).

Fig. 211. Haematite Bead-seal, Crete:
B. M. (f).

Fig. 212. Haematite Bead-seal,
Psychro Cave : A. E. (f).

the hands of the divinity, or is itself, like a baetylic stone, a vehicle of posses-
sion, or again appears as a sacral symbol on signet-types or, by itself, in
amuletic form, this eight-shaped shield could not fail to have strong religious
associations in Minoan eyes. The array of painted shields, tier on tier,
however suggestive of temporal might to those who passed and re-passed
them on the successive flights of the Grand Staircase, could also by impli-
cation reflect the power of the great Goddess that they symbolized, and to
whom, in the Psalmist's words, ' the Shields of the Earth ' belonged.2

1 See A. E., Ring of Nestor, p. 69 seqq., and see above, p. 154. - Psalm xlvii. 9.

Parade of
shields
on stairs
sugges-
tive both
of tem-
poral
power
and
divine
protec-
tion.