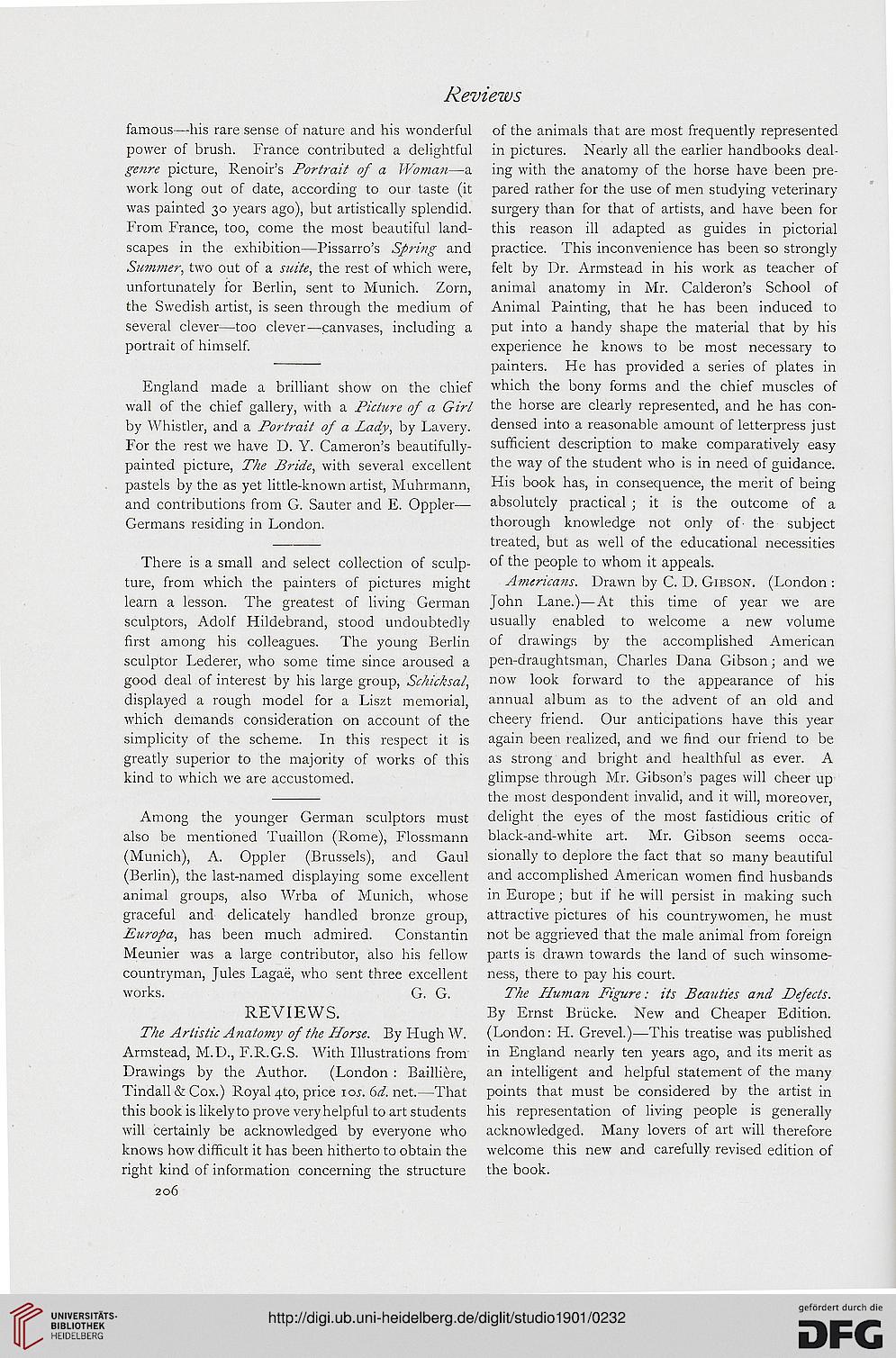 famous—his rare sense of nature and his wonderful
power of brush. France contributed a delightful
genre picture, Renoir's Portrait of a Woman—a
work long out of date, according to our taste (it
was painted 30 years ago), but artistically splendid.
From France, too, come the most beautiful land-
scapes in the exhibition—Pissarro's Spring and
Summer, two out of a suite, the rest of which were,
unfortunately for Berlin, sent to Munich. Zorn,
the Swedish artist, is seen through the medium of
several clever—too clever—canvases, including a
portrait of himself.

England made a brilliant show on the chief
wall of the chief gallery, with a Picture of a Girl
by Whistler, and a Portrait of a Lady, by Lavery.
For the rest we have D. Y. Cameron's beautifully-
painted picture, The Bride, with several excellent
pastels by the as yet little-known artist, Muhrmann,
and contributions from G. Sauter and E. Oppler—
Germans residing in London.

There is a small and select collection of sculp-
ture, from which the painters of pictures might
learn a lesson. The greatest of living German
sculptors, Adolf Hildebrand, stood undoubtedly
first among his colleagues. The young Berlin
sculptor Lederer, who some time since aroused a
good deal of interest by his large group, Schicksal,
displayed a rough model for a Liszt memorial,
which demands consideration on account of the
simplicity of the scheme. In this respect it is
greatly superior to the majority of works of this
kind to which we are accustomed.

Among the younger German sculptors must
also be mentioned Tuaillon (Rome), Flossmann
(Munich), A. Oppler (Brussels), and Gaul
(Berlin), the last-named displaying some excellent
animal groups, also Wrba of Munich, whose
graceful and delicately handled bronze group,
Europa, has been much admired. Constantin
Meunier was a large contributor, also his fellow
countryman, Jules Lagae, who sent three excellent
works. G. G.

REVIEWS.

The Artistic Anatomy of the Horse. By Hugh W.
Armstead, M.D., F.R.G.S. With Illustrations from
Drawings by the Author. (London : Bailliere,
Tindall & Cox.) Royal 4to, price \os. 6d. net.—That
this book is likely to prove very helpful to art students
will certainly be acknowledged by everyone who
knows how difficult it has been hitherto to obtain the
right kind of information concerning the structure
206

of the animals that are most frequently represented
in pictures. Nearly all the earlier handbooks deal-
ing with the anatomy of the horse have been pre-
pared rather for the use of men studying veterinary
surgery than for that of artists, and have been for
this reason ill adapted as guides in pictorial
practice. This inconvenience has been so strongly
felt by Dr. Armstead in his work as teacher of
animal anatomy in Mr. Calderon's School of
Animal Painting, that he has been induced to
put into a handy shape the material that by his
experience he knows to be most necessary to
painters. He has provided a series of plates in
which the bony forms and the chief muscles of
the horse are clearly represented, and he has con-
densed into a reasonable amount of letterpress just
sufficient description to make comparatively easy
the way of the student who is in need of guidance.
His book has, in consequence, the merit of being
absolutely practical ; it is the outcome of a
thorough knowledge not only of the subject
treated, but as well of the educational necessities
of the people to whom it appeals.

Americans. Drawn by C. D. Gibson. (London :
John Lane.)—At this time of year we are
usually enabled to welcome a new volume
of drawings by the accomplished American
pen-draughtsman, Charles Dana Gibson; and we
now look forward to the appearance of his
annual album as to the advent of an old and
cheery friend. Our anticipations have this year
again been realized, and we find our friend to be
as strong and bright and healthful as ever. A
glimpse through Mr. Gibson's pages will cheer up
the most despondent invalid, and it will, moreover,
delight the eyes of the most fastidious critic of
black-and-white art. Mr. Gibson seems occa-
sionally to deplore the fact that so many beautiful
and accomplished American women find husbands
in Europe; but if he will persist in making such
attractive pictures of his countrywomen, he must
not be aggrieved that the male animal from foreign
parts is drawn towards the land of such winsome-
ness, there to pay his court.

The Human Figure: its Beauties and Defects.
By Ernst Briicke. New and Cheaper Edition.
(London: H. Grevel.)—This treatise was published
in England nearly ten years ago, and its merit as
an intelligent and helpful statement of the many
points that must be considered by the artist in
his representation of living people is generally
acknowledged. Many lovers of art will therefore
welcome this new and carefully revised edition of
the book.