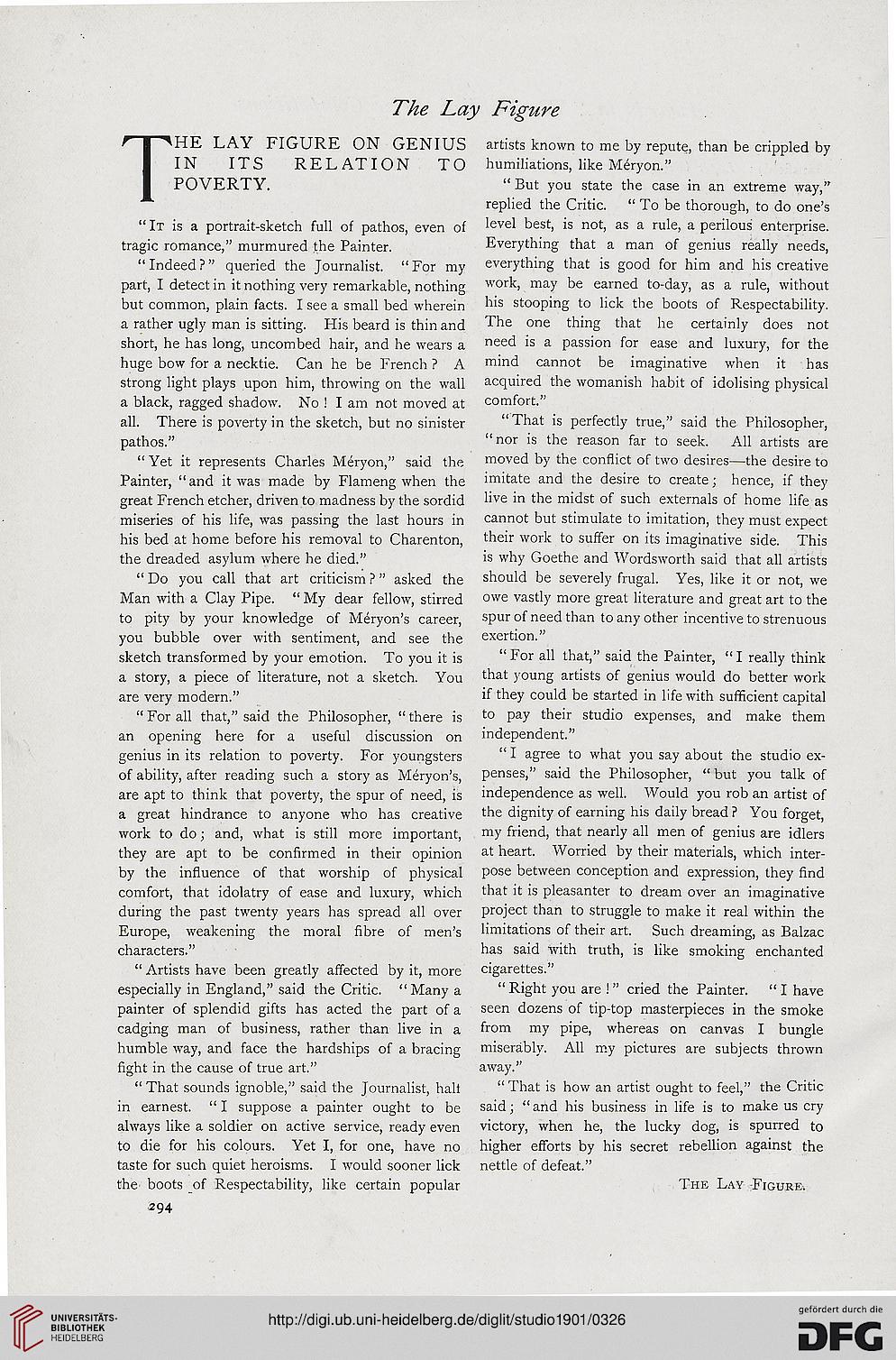 THE LAY FIGURE ON GENIUS
IN ITS RELATION TO
POVERTY.

"It is a portrait-sketch full of pathos, even of
tragic romance," murmured the Painter.

" Indeed ? " queried the Journalist. " For my
part, I detect in it nothing very remarkable, nothing
but common, plain facts. I see a small bed wherein
a rather ugly man is sitting. His beard is thin and
short, he has long, uncombed hair, and he wears a
huge bow for a necktie. Can he be French ? A
strong light plays upon him, throwing on the wall
a black, ragged shadow. No ! I am not moved at
all. There is poverty in the sketch, but no sinister
pathos."

" Yet it represents Charles Meryon," said the
Painter, "and it was made by Flameng when the
great French etcher, driven to madness by the sordid
miseries of his life, was passing the last hours in
his bed at home before his removal to Charenton,
the dreaded asylum where he died."

" Do you call that art criticism ?" asked the
Man with a Clay Pipe. " My dear fellow, stirred
to pity by your knowledge of Meryon's career,
you bubble over with sentiment, and see the
sketch transformed by your emotion. To you it is
a story, a piece of literature, not a sketch. You
are very modern."

" For all that," said the Philosopher, " there is
an opening here for a useful discussion on
genius in its relation to poverty. For youngsters
of ability, after reading such a story as Meryon's,
are apt to think that poverty, the spur of need, is
a great hindrance to anyone who has creative
work to do; and, what is still more important,
they are apt to be confirmed in their opinion
by the influence of that worship of physical
comfort, that idolatry of ease and luxury, which
during the past twenty years has spread all over
Europe, weakening the moral fibre of men's
characters."

" Artists have been greatly affected by it, more
especially in England," said the Critic. " Many a
painter of splendid gifts has acted the part of a
cadging man of business, rather than live in a
humble way, and face the hardships of a bracing
fight in the cause of true art."

" That sounds ignoble," said the Journalist, halt
in earnest. " I suppose a painter ought to be
always like a soldier on active service, ready even
to die for his colours. Yet I, for one, have no
taste for such quiet heroisms. I would sooner lick
the boots of Respectability, like certain popular
294

artists known to me by repute, than be crippled by
humiliations, like Meryon."

" But you state the case in an extreme way,"
replied the Critic. " To be thorough, to do one's
level best, is not, as a rule, a perilous enterprise.
Everything that a man of genius really needs,
everything that is good for him and his creative
work, may be earned to-day, as a rule, without
his stooping to lick the boots of Respectability.
The one thing that he certainly does not
need is a passion for ease and luxury, for the
mind cannot be imaginative when it has
acquired the womanish habit of idolising physical
comfort."

"That is perfectly true," said the Philosopher,
"nor is the reason far to seek. All artists are
moved by the conflict of two desires—the desire to
imitate and the desire to create; hence, if they
live in the midst of such externals of home life as
cannot but stimulate to imitation, they must expect
their work to suffer on its imaginative side. This
is why Goethe and Wordsworth said that all artists
should be severely frugal. Yes, like it or not, we
owe vastly more great literature and great art to the
spur of need than to any other incentive to strenuous
exertion."

"For all that," said the Painter, "I really think
that young artists of genius would do better work
if they could be started in life with sufficient capital
to pay their studio expenses, and make them
independent."

" I agree to what you say about the studio ex-
penses," said the Philosopher, " but you talk of
independence as well. Would you rob an artist of
the dignity of earning his daily bread ? You forget,
my friend, that nearly all men of genius are idlers
at heart. Worried by their materials, which inter-
pose between conception and expression, they find
that it is pleasanter to dream over an imaginative
project than to struggle to make it real within the
limitations of their art. Such dreaming, as Balzac
has said with truth, is like smoking enchanted
cigarettes."

" Right you are ! " cried the Painter. " I have
seen dozens of tip-top masterpieces in the smoke
from my pipe, whereas on canvas I bungle
miserably. All my pictures are subjects thrown
away."

"That is how an artist ought to feel," the Critic
said; " and his business in life is to make us cry
victory, when he, the lucky dog, is spurred to
higher efforts by his secret rebellion against the
nettle of defeat."

The Lay Figure.