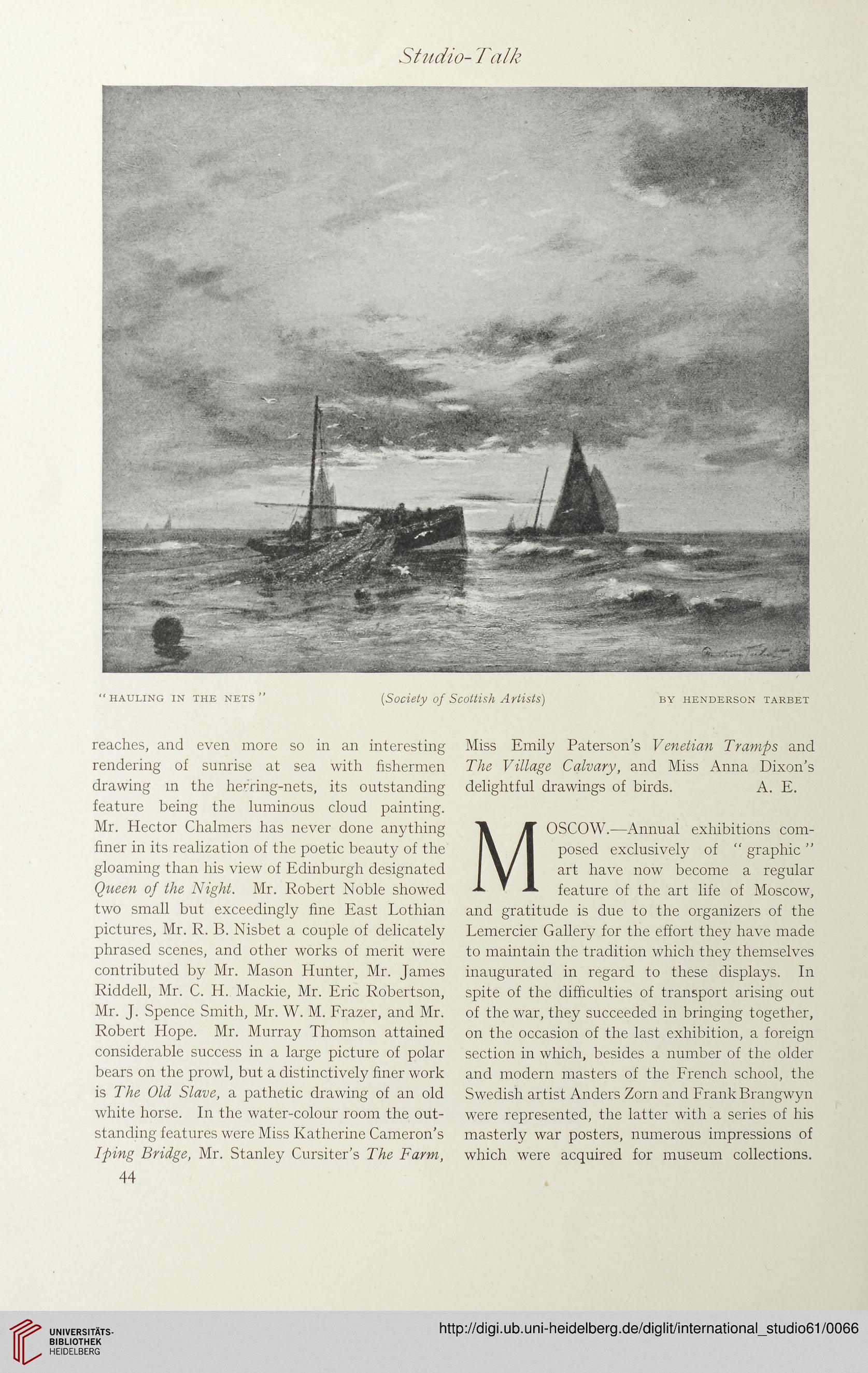 " HAULING IN THE NETS "

[Society of Scottish Artists)

BY HENDERSON TARBET

reaches, and even more so in an interesting
rendering of sunrise at sea with fishermen
drawing in the herring-nets, its outstanding
feature being the luminous cloud painting.
Mr. Hector Chalmers has never done anything
finer in its realization of the poetic beauty of the
gloaming than his view of Edinburgh designated
Queen of the Night. Mr. Robert Noble showed
two small but exceedingly fine East Lothian
pictures, Mr. R. B. Nisbet a couple of delicately
phrased scenes, and other works of merit were
contributed by Mr. Mason Hunter, Mr. James
Riddell, Mr. C. H. Mackie, Mr. Eric Robertson,
Mr. J. Spence Smith, Mr. W. M. Frazer, and Mr.
Robert Hope. Mr. Murray Thomson attained
considerable success in a large picture of polar
bears on the prowl, but a distinctively finer work
is The Old Slave, a pathetic drawing of an old
white horse. In the water-colour room the out-
standing features were Miss Katherine Cameron's
I-ping Bridge, Mr. Stanley Cursiter's The Farm,
44

Miss Emily Paterson's Venetian Tramps and
The Village Calvary, and Miss Anna Dixon's
delightful drawings of birds. A. E.
MOSCOW.—Annual exhibitions com-
posed exclusively of " graphic "
art have now become a regular
feature of the art life of Moscow,
and gratitude is due to the organizers of the
Lemercier Gallery for the effort they have made
to maintain the tradition which they themselves
inaugurated in regard to these displays. In
spite of the difficulties of transport arising out
of the war, they succeeded in bringing together,
on the occasion of the last exhibition, a foreign
section in which, besides a number of the older
and modern masters of the French school, the
Swedish artist Anders Zorn and Frank Brangwyn
were represented, the latter with a series of his
masterly war posters, numerous impressions of
which were acquired for museum collections.