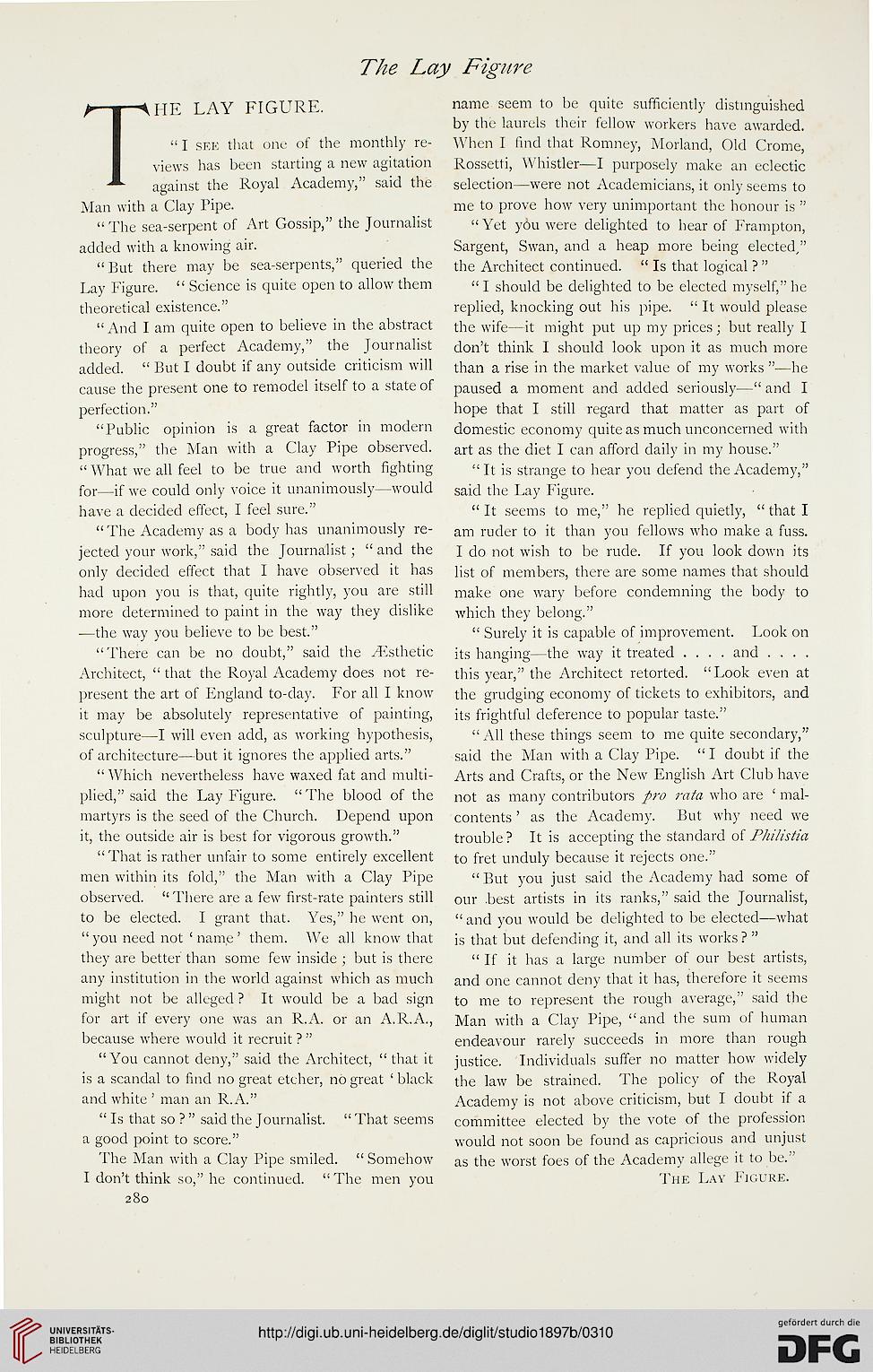 THE LAY FIGURE.
"I see that one of the monthly re-
views has been starting a new agitation
against the Royal Academy," said the
Man with a Clay Pipe.

"The sea-serpent of Art Gossip," the Journalist
added with a knowing air.

"But there may be sea-serpents," queried the
Lay Figure. " Science is quite open to allow them
theoretical existence."

" And I am quite open to believe in the abstract
theory of a perfect Academy," the Journalist
added. " But I doubt if any outside criticism will
cause the present one to remodel itself to a state of
perfection."

"Public opinion is a great factor in modern
progress," the Man with a Clay Pipe observed.
" What we all feel to be true and worth fighting
for—if we could only voice it unanimously—would
have a decided effect, I feel sure."

" The Academy as a body has unanimously re-
jected your work," said the Journalist; " and the
only decided effect that I have observed it has
had upon you is that, quite rightly, you are still
more determined to paint in the way they dislike
—the way you believe to be best."

"There can be no doubt," said the /Esthetic
Architect, " that the Royal Academy does not re-
present the art of England to-day. For all I know
it may be absolutely representative of painting,
sculpture—I will even add, as working hypothesis,
of architecture—but it ignores the applied arts."

" Which nevertheless have waxed fat and multi-
plied," said the Lay Figure. " The blood of the
martyrs is the seed of the Church. Depend upon
it, the outside air is best for vigorous growth."

" That is rather unfair to some entirely excellent
men within its fold," the Man with a Clay Pipe
observed. " There are a few first-rate painters still
to be elected. I grant that. Yes," he went on,
"you need not 'name' them. We all know that
they are better than some few inside ; but is there
any institution in the world against which as much
might not be alleged ? It would be a bad sign
for art if every one was an R.A. or an A.R.A.,
because where would it recruit ? "

"You cannot deny," said the Architect, " that it
is a scandal to find no great etcher, no great ' black
and white ' man an R.A."

" Is that so ? " said the Journalist. " That seems
a good point to score."

The Man with a Clay Pipe smiled. " Somehow
I don't think so," he continued. "The men you
280

name seem to be quite sufficiently distinguished
by the laurels their fellow workers have awarded.
When I find that Romney, Morland, Old Crome,
Rossetti, Whistler—I purposely make an eclectic
selection—were not Academicians, it only seems to
me to prove how very unimportant the honour is "

"Yet you were delighted to hear of Frampton,
Sargent, Swan, and a heap more being elected/'
the Architect continued. " Is that logical ? "

" I should be delighted to be elected myself," he
replied, knocking out his pipe. " It would please
the wife—it might put up my prices; but really I
don't think I should look upon it as much more
than a rise in the market value of my works "—he
paused a moment and added seriously—" and I
hope that I still regard that matter as part of
domestic economy quite as much unconcerned with
art as the diet I can afford daily in my house."

"It is strange to hear you defend the Academy,"
said the Lay Figure.

" It seems to me," he replied quietly, " that I
am ruder to it than you fellows who make a fuss.
I do not wish to be rude. If you look down its
list of members, there are some names that should
make one wary before condemning the body to
which they belong."

" Surely it is capable of improvement. Look on
its hanging—the way it treated .... and ....
this year," the Architect retorted. "Look even at
the grudging economy of tickets to exhibitors, and
its frightful deference to popular taste."

"All these things seem to me quite secondary,"
said the Man with a Clay Pipe. " I doubt if the
Arts and Crafts, or the New English Art Club have
not as many contributors pro 7-ata who are ' mal-
contents ' as the Academy. But why need we
trouble ? It is accepting the standard of Philistia
to fret unduly because it rejects one."

" But you just said the Academy had some of
our .best artists in its ranks," said the Journalist,
"and you would be delighted to be elected—what
is that but defending it, and all its works? "

"If it has a large number of our best artists,
and one cannot deny that it has, therefore it seems
to me to represent the rough average," said the
Man with a Clay Pipe, "and the sum of human
endeavour rarely succeeds in more than rough
justice. Individuals suffer no matter how widely
the law be strained. The policy of the Royal
Academy is not above criticism, but I doubt if a
committee elected by the vote of the profession
would not soon be found as capricious and unjust
as the worst foes of the Academy allege it to be."

The Lav Figure.