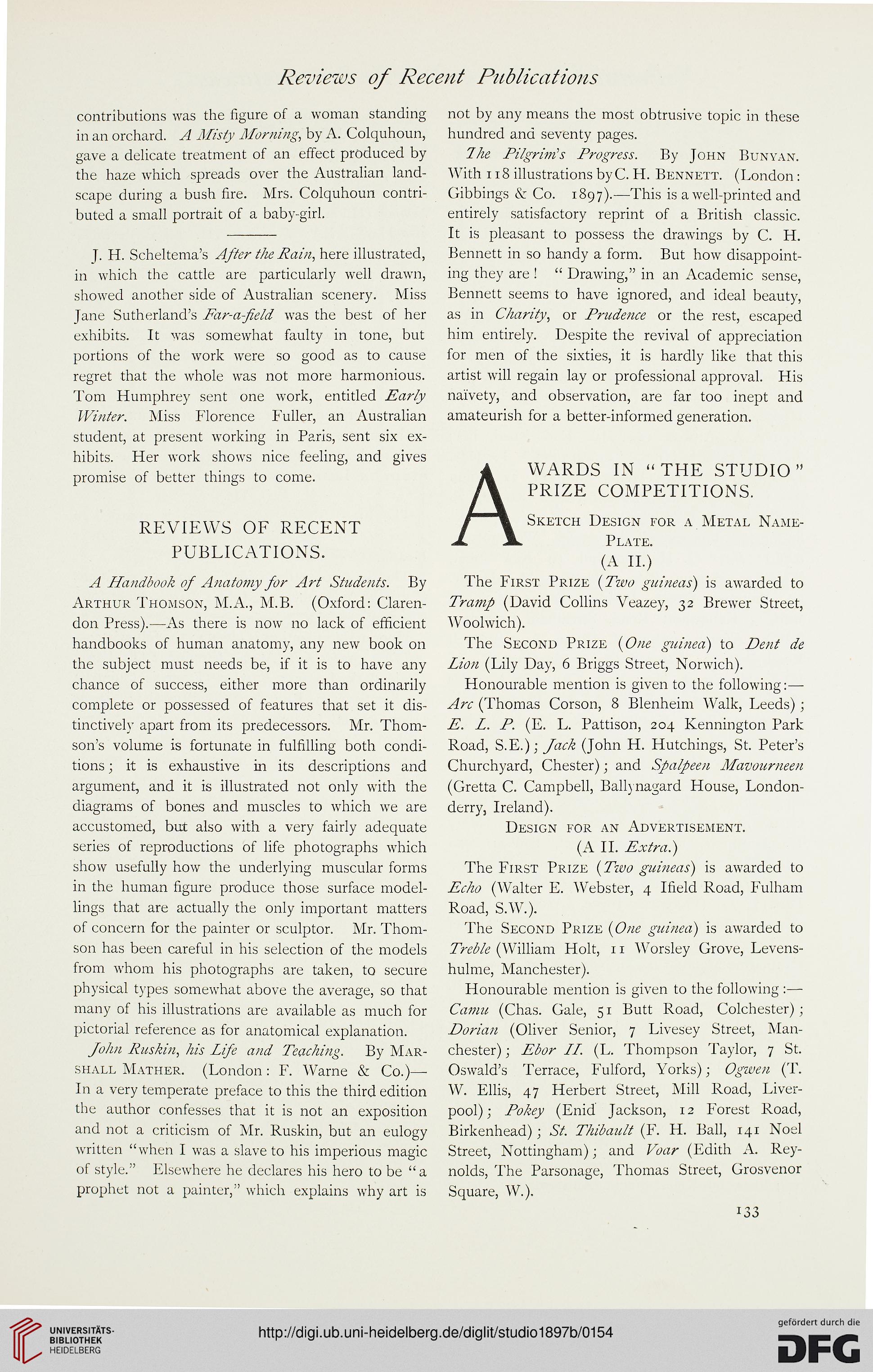 contributions was the figure of a woman standing
in an orchard. A Misty Morning, by A. Colquhoun,
gave a delicate treatment of an effect produced by
the haze which spreads over the Australian land-
scape during a bush fire. Mrs. Colquhoun contri-
buted a small portrait of a baby-girl.

J. H. Scheltema's After the Rain, here illustrated,
in which the cattle are particularly well drawn,
showed another side of Australian scenery. Miss
Jane Sutherland's Far-a-field was the best of her
exhibits. It was somewhat faulty in tone, but
portions of the work were so good as to cause
regret that the whole was not more harmonious.
Tom Humphrey sent one work, entitled Early
Winter. Miss Florence Fuller, an Australian
student, at present working in Paris, sent six ex-
hibits. Her work shows nice feeling, and gives
promise of better things to come.

REVIEWS OF RECENT
PUBLICATIONS.

A Handbook of Anatomy for Art Students. By
Arthur Thomson, M.A., M.B. (Oxford: Claren-
don Press).—As there is now no lack of efficient
handbooks of human anatomy, any new book on
the subject must needs be, if it is to have any
chance of success, either more than ordinarily
complete or possessed of features that set it dis-
tinctively apart from its predecessors. Mr. Thom-
son's volume is fortunate in fulfilling both condi-
tions ; it is exhaustive in its descriptions and
argument, and it is illustrated not only with the
diagrams of bones and muscles to which we are
accustomed, but also with a very fairly adequate
series of reproductions of life photographs which
show usefully how the underlying muscular forms
in the human figure produce those surface model-
lings that are actually the only important matters
of concern for the painter or sculptor. Mr. Thom-
son has been careful in his selection of the models
from whom his photographs are taken, to secure
physical types somewhat above the average, so that
many of his illustrations are available as much for
pictorial reference as for anatomical explanation.

John Ruskiu, his Life and Teaching. By Mar-
shall Mather. (London: F. Warne & Co.)—
In a very temperate preface to this the third edition
the author confesses that it is not an exposition
and not a criticism of Mr. Ruskin, but an eulogy
written "when I was a slave to his imperious magic
of style." Elsewhere he declares his hero to be "a
prophet not a painter," which explains why art is

not by any means the most obtrusive topic in these
hundred and seventy pages.

2he Pilgrim's Progress. By John Bunyan.
With 118 illustrations by C. H. Bennett. (London :
Gibbings & Co. 1897).— This is a well-printed and
entirely satisfactory reprint of a British classic.
It is pleasant to possess the drawings by C. H.
Bennett in so handy a form. But how disappoint-
ing they are ! " Drawing," in an Academic sense,
Bennett seems to have ignored, and ideal beauty,
as in Charity, or Prudence or the rest, escaped
him entirely. Despite the revival of appreciation
for men of the sixties, it is hardly like that this
artist will regain lay or professional approval. His
naivety, and observation, are far too inept and
amateurish for a better-informed generation.

AWARDS IN "THE STUDIO"
PRIZE COMPETITIONS.
Sketch Design for a Metal Name-
Plate.
(A II.)

The First Prize (Two guineas) is awarded to
Tramp (David Collins Veazey, 32 Brewer Street,
Woolwich).

The Second Prize (One guinea) to Dent de
Lion (Lily Day, 6 Briggs Street, Norwich).

Honourable mention is given to the following:—
Arc (Thomas Corson, 8 Blenheim Walk, Leeds);
E. L. P. (E. L. Pattison, 204 Kennington Park
Road, S.E.); Jack (John H. Hutchings, St. Peter's
Churchyard, Chester); and Spalpeen Mavoumeen
(Gretta C. Campbell, Ballynagard House, London-
derry, Ireland).

Design for an Advertisement.
(A II. Extra.)

The First Prize (Two guineas) is awarded to
Echo (Walter E. Webster, 4 Ifield Road, Fulham
Road, S.W.).

The Second Prize (One guinea) is awarded to
Treble (William Holt, 11 Worsley Grove, Levens-
hulme, Manchester).

Honourable mention is given to the following :—
Camu (Chas. Gale, 51 Butt Road, Colchester) ;
Dorian (Oliver Senior, 7 Livesey Street, Man-
chester) ■ Ebor LL (L. Thompson Taylor, 7 St.
Oswald's Terrace, Fulford, Yorks); Ogwen (T.
W. Ellis, 47 Herbert Street, Mill Road, Liver-
pool); Pokey (Enid Jackson, 12 Forest Road,
Birkenhead) • St. Thibault (F. H. Ball, 141 Noel
Street, Nottingham); and Voar (Edith A. Rey-
nolds, The Parsonage, Thomas Street, Grosvenor
Square, W.).