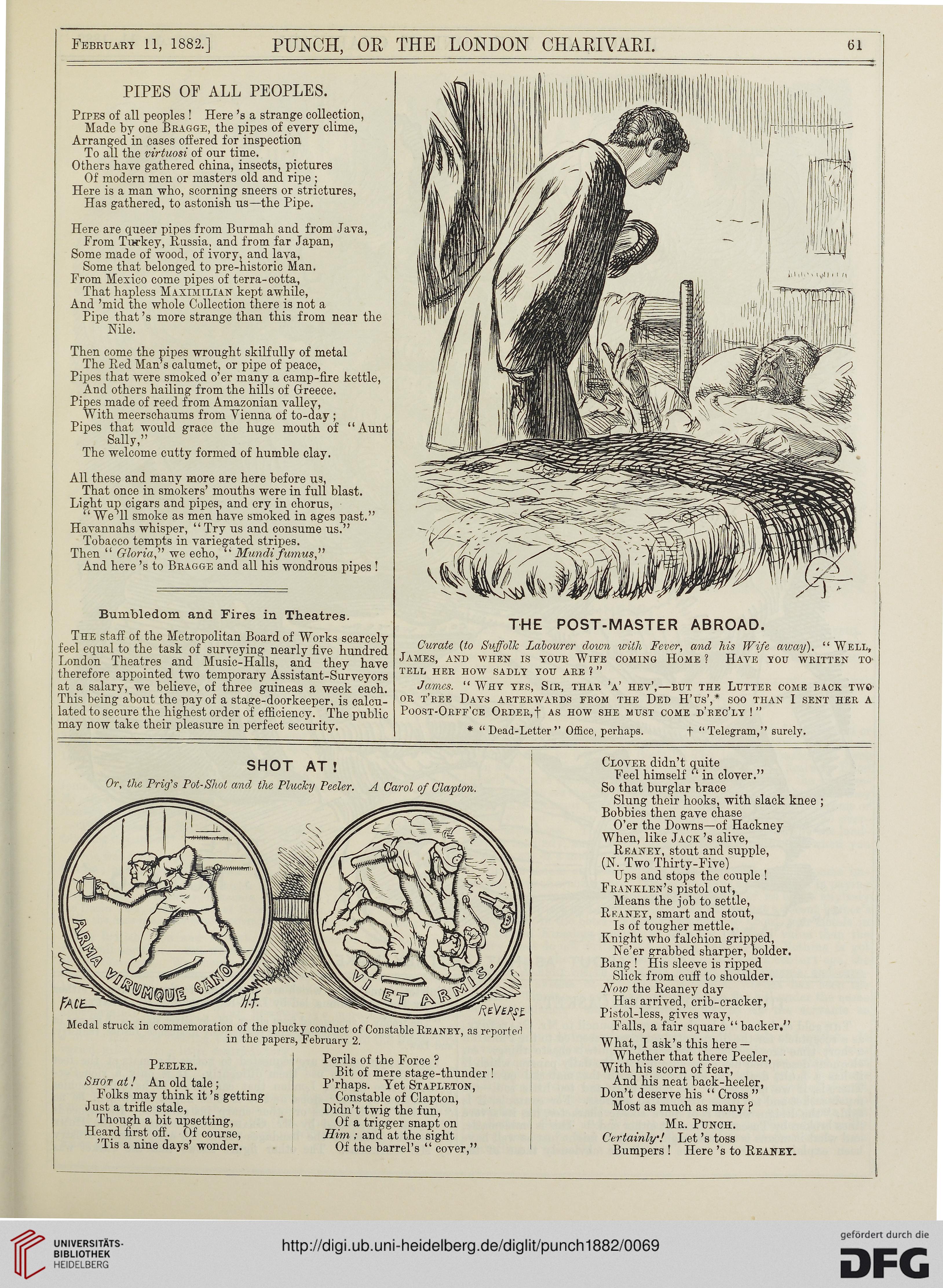 (51

PIPES OP ALL PEOPLES.

Pipes of all peoples ! Here 's a strange collection,
Made by one Bragge, the pipes of every clime,
Arranged in cases offered for inspection
To all the virtuosi of our time.

Others have gathered china, insects, pictures
Of modern men or masters old and ripe ;

Here is a man who, scorning sneers or strictures,

Has gathered, to astonish us—the Pipe.

Here are queer pipes from Burmah and from Java,
From Turkey, Russia, and from far Japan,

Some made of wood, of ivory, and lava,

Some that helonged to pre-historic Man.

From Mexico come pipes of terra-cotta,

That hapless Maxtmilian kept awhile,

And 'mid the whole Collection there is not a
Pipe that 's more strange than this from near the
Nile.

Then come the pipes wrought skilfully of metal
The Red Man's calumet, or pipe of peace,

Pipes that were smoked o'er many a camp-fire kettle,
And others hailing from the hills of Grreece.

Pipes made of reed from Amazonian valley,

With meerschaums from Yienna of to-aay ;

Pipes that would grace the huge mouth of "Aunt
Sally,"

The welcome cutty formed of humble clay.

All these and many more are here before us,

That once in smokers' mouths were in full blast.
Light up cigars and pipes, and cry in chorus,

" We 'll smoke as men have smoked in ages past."
Havannahs whisper, " Try us and consume us."

Tobacco tempts in variegated stripes.

Then " Gloria," we echo, ' ' Mundi fumus,''

And here 's to Bragge and all his wondrous pipes !

Bumbledom and Fires in Theatres.

The staff of the Metropolitan Boardof Works scarcely
feel equal to the task of surveying nearly five hundred
London Theatres and Music-Halls, and they have
therefore appointed two temporary Assistant-Surveyors
at _a salary, we believe, of three guineas a week each.
This being about the pay of a stage-doorkeeper, is calcu-
lated to secure the highest order of efficiency. The public
may now take their pleasure in perfect security.

THE POST-MASTER ABROAD.

Curate (to Suffolk Labourer down with Fever, and his Wife away). " Well,
James, anp when is your Wife coming Home ? Have you written to-

TELL HER HOW SADLY YOU ARE ? "

Jamcs. " Why yes, Sir, thar 'a' hev',—but the Lutter come ba.ck tavo
OR T'REE DaYS ARTERWARDS FROM THE DeD H'us',* SOO THAN I SENT HER A

Poost-Orff'ce Order,| as how she must come d'rec'ly ! "

* " Dead-Letter'' Office, perhaps. f "Telegram," surely.

Peeler.

Shot at! An old tale;

Folks may think it 's getting
Just a trifie stale,

Though a bit upsetting,
Heard first off. Of course,

'Tis a nine days' wonder.

Perils of the Force ?

Bit of mere stage-thunder !
P'rhaps. Yet Stapleton,
Constable of Clapton,
Didn't twig the fun,

Of a trigger snapt on
Him ; and at the sight
Of the barrel's " cover,"

Clover didn't quite
Feel himself " in clover."

So that burglar brace
Slung their hooks, with slack knee ;

Bobbies then gave chase
O'er the Downs—of Hackney
When, like Jack 's alive,

Reaney, stout and supple, i

(N. Two Thirty-Five)

Ups and stops the couple !

Franklen's pistol out,

Means the job to settle,

Rraney, smart and stout,

Is of tougher mettle.

Knight who falchion gripped,

Ne'er grabbed sharper, bolder.

Bang ! His sleeve is ripped
Slick from cuff to shoulder.

Now the Reaney day
Has arrived, crib-cracker,

Pistol-less, gives way,

Falls, a fair square " backer,"

What, I ask's this here —

Whether that there Peeler,

With his scorn of fear,

And his neat back-heeler,

Don't deserve his " Cross "

Most as much as many ?

Mr. Punch.

Certainly! Let 's toss
Bumpers ! Here 's to Reaney.