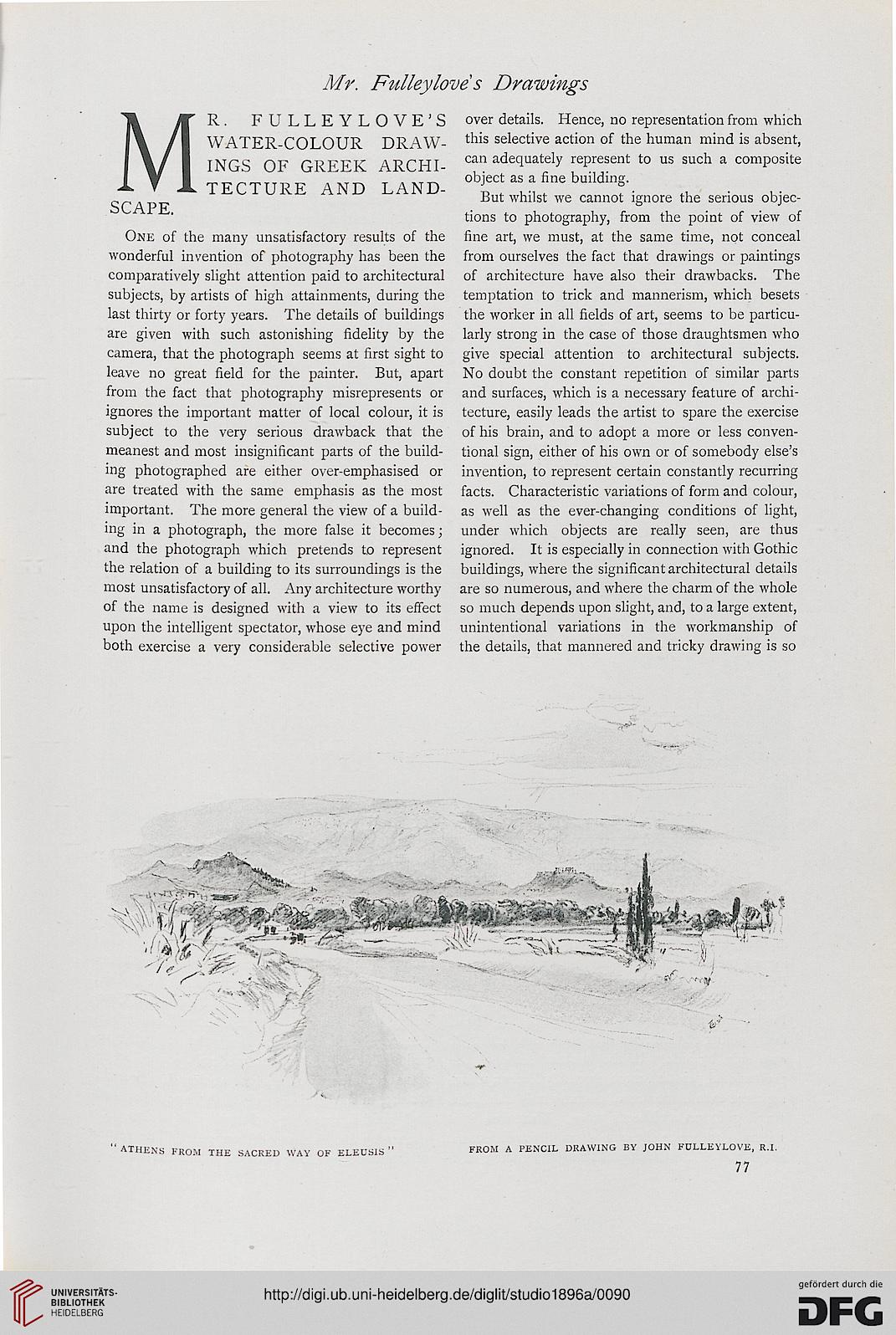 MR. FULLEYLOVE'S
WATER-COLOUR DRAW-
INGS OF GREEK ARCHI-
TECTURE AND LAND-
SCAPE.

One of the many unsatisfactory results of the
wonderful invention of photography has been the
comparatively slight attention paid to architectural
subjects, by artists of high attainments, during the
last thirty or forty years. The details of buildings
are given with such astonishing fidelity by the
camera, that the photograph seems at first sight to
leave no great field for the painter. But, apart
from the fact that photography misrepresents or
ignores the important matter of local colour, it is
subject to the very serious drawback that the
meanest and most insignificant parts of the build-
ing photographed are either over-emphasised or
are treated with the same emphasis as the most
important. The more general the view of a build-
ing in a photograph, the more false it becomes;
and the photograph which pretends to represent
the relation of a building to its surroundings is the
most unsatisfactory of all. Any architecture worthy
of the name is designed with a view to its effect
upon the intelligent spectator, whose eye and mind
both exercise a very considerable selective power

over details. Hence, no representation from which
this selective action of the human mind is absent,
can adequately represent to us such a composite
object as a fine building.

But whilst we cannot ignore the serious objec-
tions to photography, from the point of view of
fine art, we must, at the same time, not conceal
from ourselves the fact that drawings or paintings
of architecture have also their drawbacks. The
temptation to trick and mannerism, which besets
the worker in all fields of art, seems to be particu-
larly strong in the case of those draughtsmen who
give special attention to architectural subjects.
No doubt the constant repetition of similar parts
and surfaces, which is a necessary feature of archi-
tecture, easily leads the artist to spare the exercise
of his brain, and to adopt a more or less conven-
tional sign, either of his own or of somebody else's
invention, to represent certain constantly recurring
facts. Characteristic variations of form and colour,
as well as the ever-changing conditions of light,
under which objects are really seen, are thus
ignored. It is especially in connection with Gothic
buildings, where the significant architectural details
are so numerous, and where the charm of the whole
so much depends upon slight, and, to a large extent,
unintentional variations in the workmanship of
the details, that mannered and tricky drawing is so

in*

A PENCIL DRAWING BY JOHN FULLEYLOVE, R.I.

77

ATHENS FROM THE SACRED WAY OF ELEUSIS "