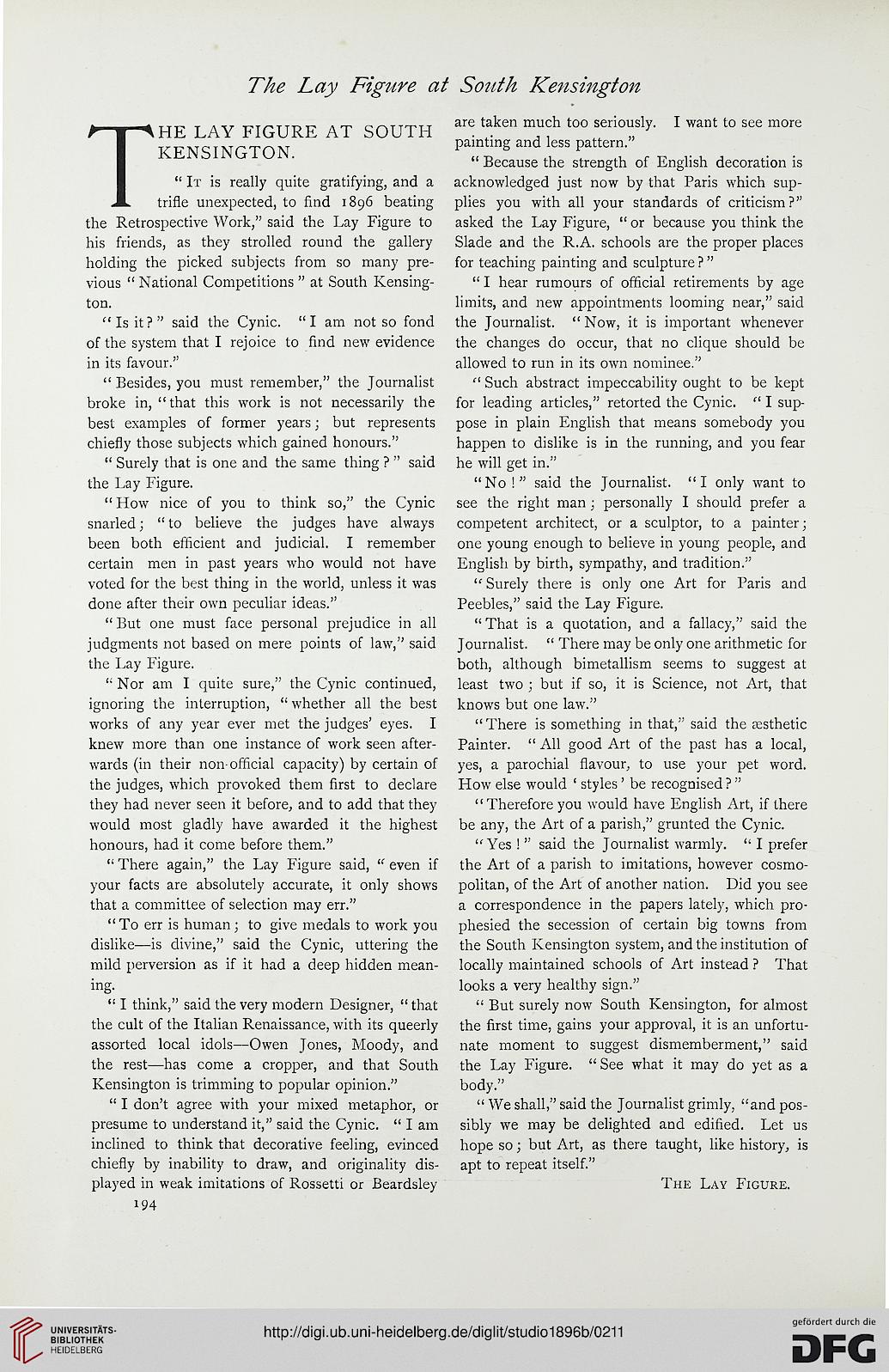 THE LAY FIGURE AT SOUTH
KENSINGTON.
" It is really quite gratifying, and a
trifle unexpected, to find 1896 beating
the Retrospective Work," said the Lay Figure to
his friends, as they strolled round the gallery
holding the picked subjects from so many pre-
vious " National Competitions " at South Kensing-
ton.

"Is it?" said the Cynic. "I am not so fond
of the system that I rejoice to find new evidence
in its favour."

" Besides, you must remember," the Journalist
broke in, "that this work is not necessarily the
best examples of former years; but represents
chiefly those subjects which gained honours."

" Surely that is one and the same thing ? " said
the Lay Figure.

" How nice of you to think so," the Cynic
snarled j " to believe the judges have always
been both efficient and judicial. I remember
certain men in past years who would not have
voted for the best thing in the world, unless it was
done after their own peculiar ideas."

"But one must face personal prejudice in all
judgments not based on mere points of law," said
the Lay Figure.

" Nor am I quite sure," the Cynic continued,
ignoring the interruption, " whether all the best
works of any year ever met the judges' eyes. I
knew more than one instance of work seen after-
wards (in their non official capacity) by certain of
the judges, which provoked them first to declare
they had never seen it before, and to add that they
would most gladly have awarded it the highest
honours, had it come before them."

" There again," the Lay Figure said, " even if
your facts are absolutely accurate, it only shows
that a committee of selection may err."

"To err is human; to give medals to work you
dislike—is divine," said the Cynic, uttering the
mild perversion as if it had a deep hidden mean-
ing.

" I think," said the very modern Designer, " that
the cult of the Italian Renaissance, with its queerly
assorted local idols—Owen Jones, Moody, and
the rest—has come a cropper, and that South
Kensington is trimming to popular opinion."

" I don't agree with your mixed metaphor, or
presume to understand it," said the Cynic. " I am
inclined to think that decorative feeling, evinced
chiefly by inability to draw, and originality dis-
played in weak imitations of Rossetti or Beardsley
194

South Kensington

are taken much too seriously. I want to see more
painting and less pattern."

" Because the strength of English decoration is
acknowledged just now by that Paris which sup-
plies you with all your standards of criticism?"
asked the Lay Figure, " or because you think the
Slade and the R.A. schools are the proper places
for teaching painting and sculpture ? "

" I hear rumours of official retirements by age
limits, and new appointments looming near," said
the Journalist. " Now, it is important whenever
the changes do occur, that no clique should be
allowed to run in its own nominee."

" Such abstract impeccability ought to be kept
for leading articles," retorted the Cynic. " I sup-
pose in plain English that means somebody you
happen to dislike is in the running, and you fear
he will get in."

"No !" said the Journalist. "I only want to
see the right man ; personally I should prefer a
competent architect, or a sculptor, to a painter;
one young enough to believe in young people, and
English by birth, sympathy, and tradition."

" Surely there is only one Art for Paris and
Peebles," said the Lay Figure.

"That is a quotation, and a fallacy," said the
Journalist. " There may be only one arithmetic for
both, although bimetallism seems to suggest at
least two ; but if so, it is Science, not Art, that
knows but one law."

"There is something in that," said the aesthetic
Painter. " All good Art of the past has a local,
yes, a parochial flavour, to use your pet word.
How else would ' styles ' be recognised ? "

"Therefore you would have English Art, if there
be any, the Art of a parish," grunted the Cynic.

"Yes ! " said the Journalist warmly. " I prefer
the Art of a parish to imitations, however cosmo-
politan, of the Art of another nation. Did you see
a correspondence in the papers lately, which pro-
phesied the secession of certain big towns from
the South Kensington system, and the institution of
locally maintained schools of Art instead ? That
looks a very healthy sign."

" But surely now South Kensington, for almost
the first time, gains your approval, it is an unfortu-
nate moment to suggest dismemberment," said
the Lay Figure. " See what it may do yet as a
body."

" We shall," said the Journalist grimly, "and pos-
sibly we may be delighted and edified. Let us
hope so; but Art, as there taught, like history, is
apt to repeat itself."

The Lay Figure.