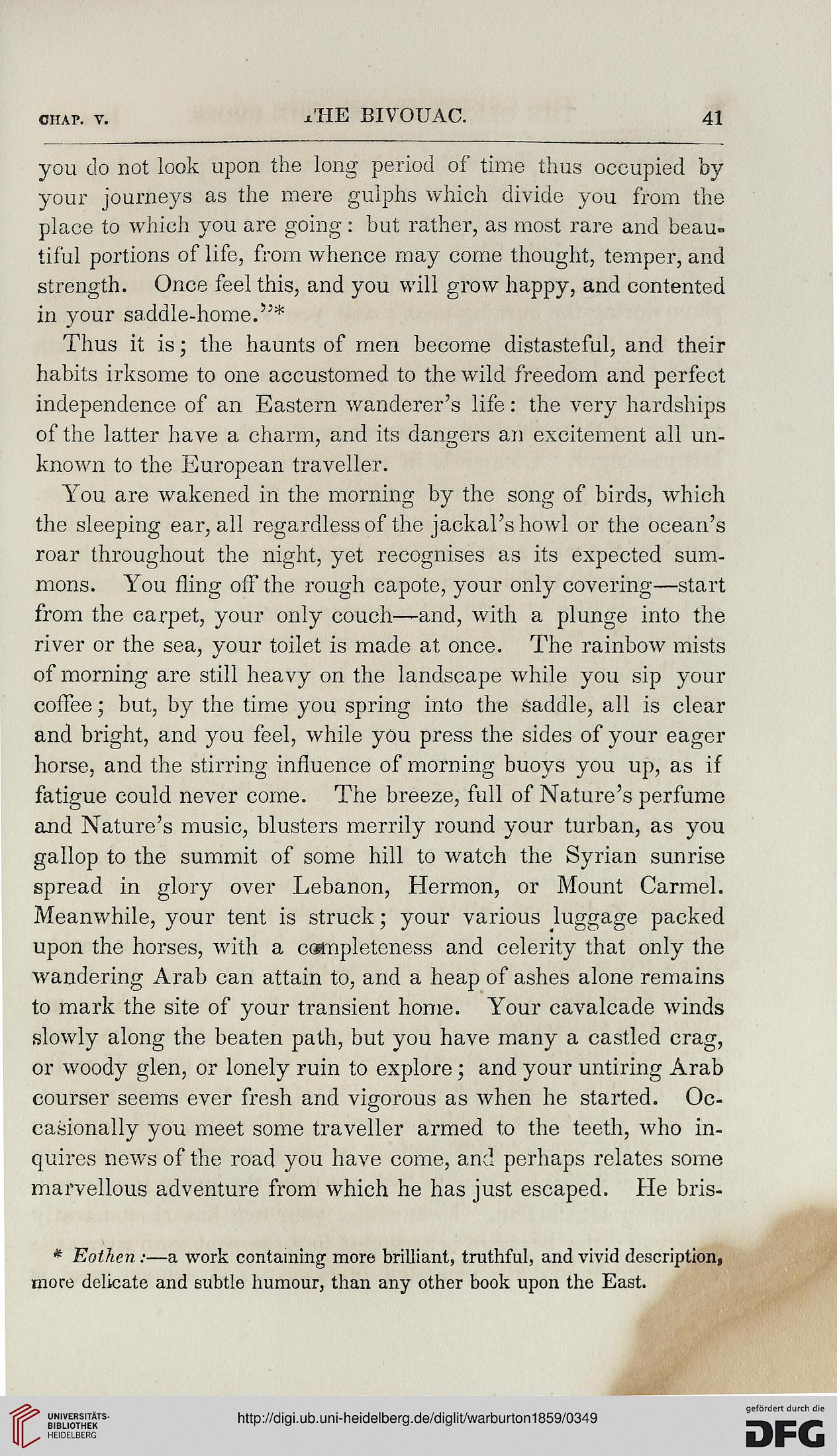 x'HE BIVOUAC.

41

you do not look upon the long period of time thus occupied by
your journeys as the mere gulphs which divide you from the
place to which you are going: but rather, as most rare and beau-
tiful portions of life, from whence may come thought, temper, and
strength. Once feel this, and you will grow happy, and contented
in your saddle-home."*

Thus it is; the haunts of men become distasteful, and their
habits irksome to one accustomed to the wild freedom and perfect
independence of an Eastern wanderer's life: the very hardships
of the latter have a charm, and its dangers an excitement all un-
known to the European traveller.

You are wakened in the morning by the song of birds, which
the sleeping ear, all regardless of the jackal's howl or the ocean's
roar throughout the night, yet recognises as its expected sum-
mons. You fling off the rough capote, your only covering—start
from the carpet, your only couch—and, with a plunge into the
river or the sea, your toilet is made at once. The rainbow mists
of morning are still heavy on the landscape while you sip your
coffee; but, by the time you spring into the saddle, all is clear
and bright, and you feel, while you press the sides of your eager
horse, and the stirring influence of morning buoys you up, as if
fatigue could never come. The breeze, full of Nature's perfume
and Nature's music, blusters merrily round your turban, as you
gallop to the summit of some hill to watch the Syrian sunrise
spread in glory over Lebanon, Hermon, or Mount Carmel.
Meanwhile, your tent is struck; your various luggage packed
upon the horses, with a completeness and celerity that only the
wandering Arab can attain to, and a heap of ashes alone remains
to mark the site of your transient home. Your cavalcade winds
slowly along the beaten path, but you have many a castled crag,
or woody glen, or lonely ruin to explore; and your untiring Arab
courser seems ever fresh and vigorous as when he started. Oc-
casionally you meet some traveller armed to the teeth, who in-
quires news of the road you have come, and perhaps relates some
marvellous adventure from which he has just escaped. He bris-

* Eotheh :—a work containing more brilliant, truthful, and vivid description,
more delicate and subtle humour, than any other book upon the East.