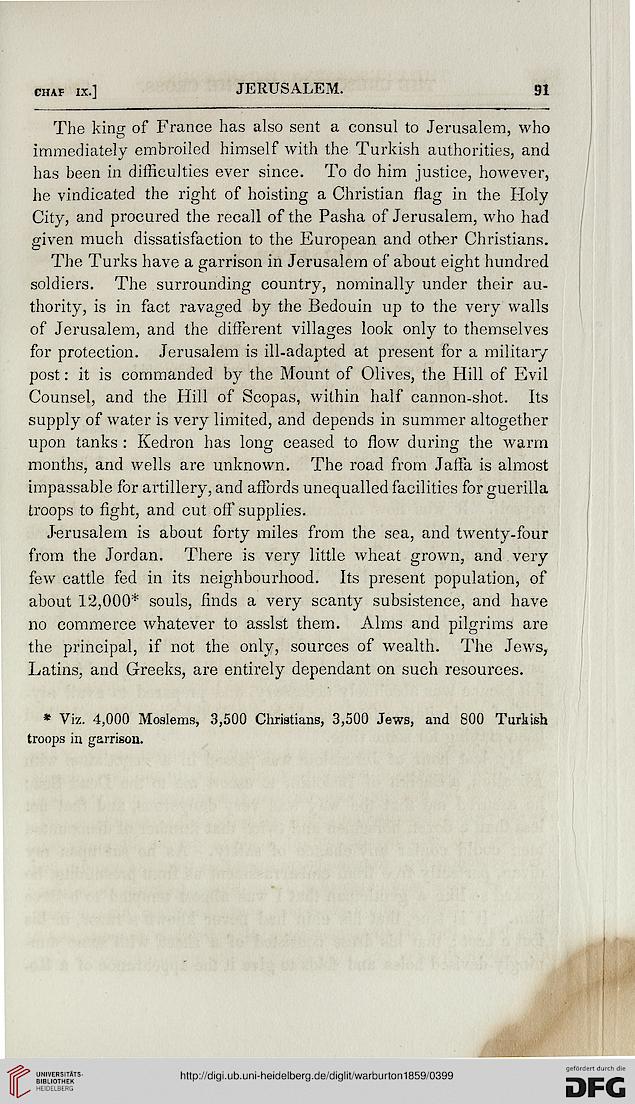 JERUSALEM.

91

The king of France has also sent a consul to Jerusalem, who
immediately embroiled himself with the Turkish authorities, and
has been in difficulties ever since. To do him justice, however,
he vindicated the right of hoisting a Christian flag in the Holy
City, and procured the recall of the Pasha of Jerusalem, who had
given much dissatisfaction to the European and other Christians.

The Turks have a garrison in Jerusalem of about eight hundred
soldiers. The surrounding country, nominally under their au-
thority, is in fact ravaged by the Bedouin up to the very walls
of Jerusalem, and the different villages look only to themselves
for protection. Jerusalem is ill-adapted at present for a military
post: it is commanded by the Mount of Olives, the Hill of Evil
Counsel, and the Hill of Scopas, within half cannon-shot. Its
supply of water is very limited, and depends in summer altogether
upon tanks : Kedron has long ceased to flow during the warm
months, and wells are unknown. The road from Jaffa is almost
impassable for artillery, and affords unequalled facilities for guerilla
troops to fight, and cut off supplies.

Jerusalem is about forty miles from the sea, and twenty-four
from the Jordan. There is very little wheat grown, and very
few cattle fed in its neighbourhood. Its present population, of
about 12,000* souls, finds a very scanty subsistence, and have
no commerce whatever to assist them. Alms and pilgrims are
the principal, if not the only, sources of wealth. The Jews,
Latins, and Greeks, are entirely dependant on such resources.

* Viz. 4,000 Moslems, 3,500 Christians, 3,500 Jews, and 800 Turkish
troops in garrison.