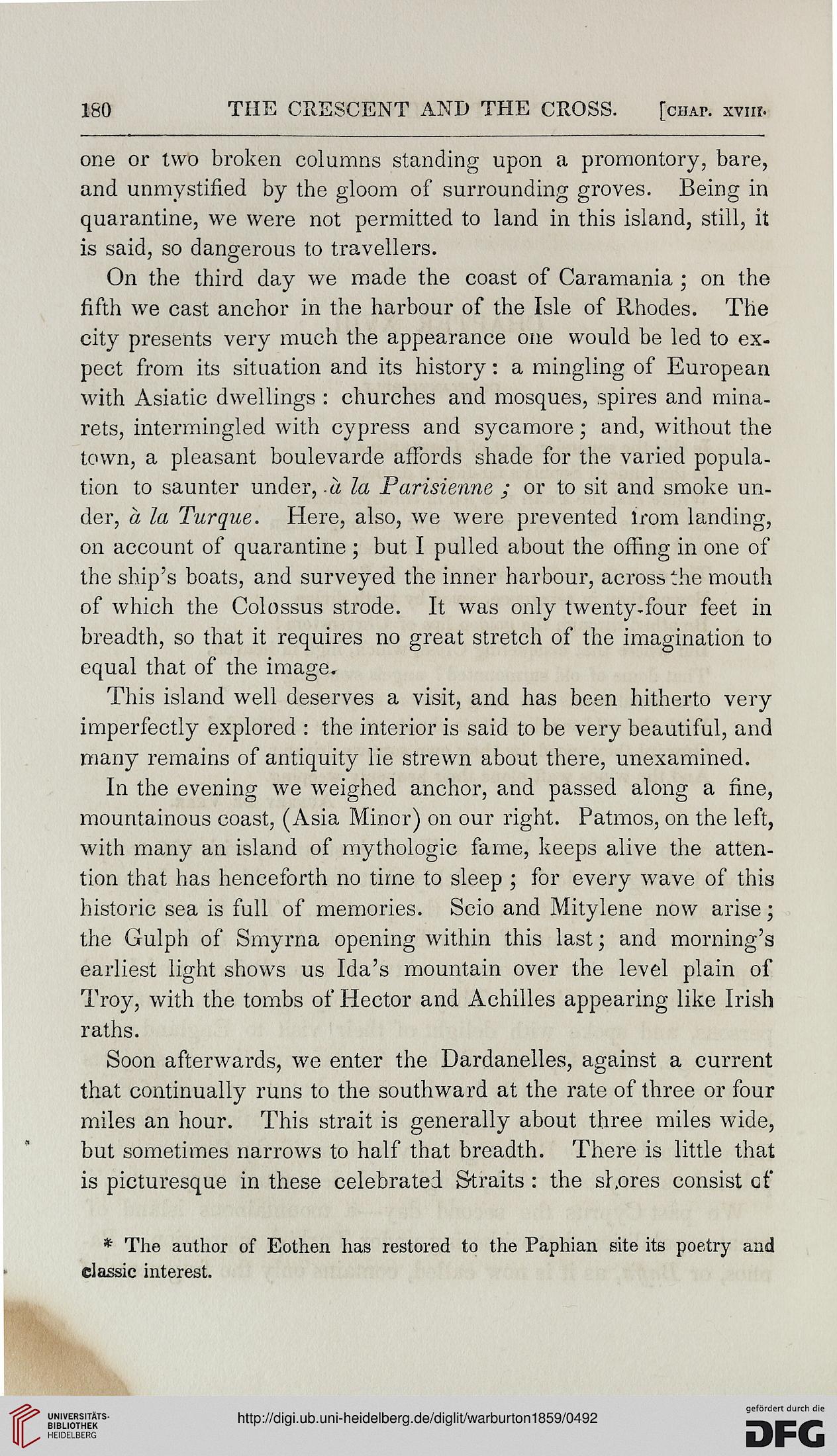 THE CRESCENT AND THE CROSS.

[chap, xvnr-

one or two broken columns standing upon a promontory, bare,
and unmystified by the gloom of surrounding groves. Being in
quarantine, we were not permitted to land in this island, still, it
is said, so dangerous to travellers.

On the third day we made the coast of Caramania ; on the
fifth we cast anchor in the harbour of the Isle of Rhodes. The
city presents very much the appearance one would be led to ex-
pect from its situation and its history: a mingling of European
with Asiatic dwellings : churches and mosques, spires and mina-
rets, intermingled with cypress and sycamore; and, without the
town, a pleasant boulevarde affords shade for the varied popula-
tion to saunter under, a la Parisienne ; or to sit and smoke un-
der, a la Turque. Here, also, we were prevented from landing,
on account of quarantine ; but I pulled about the offing in one of
the ship's boats, and surveyed the inner harbour, across the mouth
of which the Colossus strode. It was only twenty-four feet in
breadth, so that it requires no great stretch of the imagination to
equal that of the image.

This island well deserves a visit, and has been hitherto very
imperfectly explored : the interior is said to be very beautiful, and
many remains of antiquity lie strewn about there, unexamined.

In the evening we weighed anchor, and passed along a fine,
mountainous coast, (Asia Minor) on our right. Patmos, on the left,
with many an island of mythologic fame, keeps alive the atten-
tion that has henceforth no time to sleep ; for every wave of this
historic sea is full of memories. Scio and Mitylene now arise;
the Gulph of Smyrna opening within this last; and morning's
earliest light shows us Ida's mountain over the level plain of
Troy, with the tombs of Hector and Achilles appearing like Irish
raths.

Soon afterwards, we enter the Dardanelles, against a current
that continually runs to the southward at the rate of three or four
miles an hour. This strait is generally about three miles wide,
but sometimes narrows to half that breadth. There is little that
is picturesque in these celebrated Straits : the shores consist cf

* The author of Eothen has restored to the Paphian site its poetry and
classic interest.