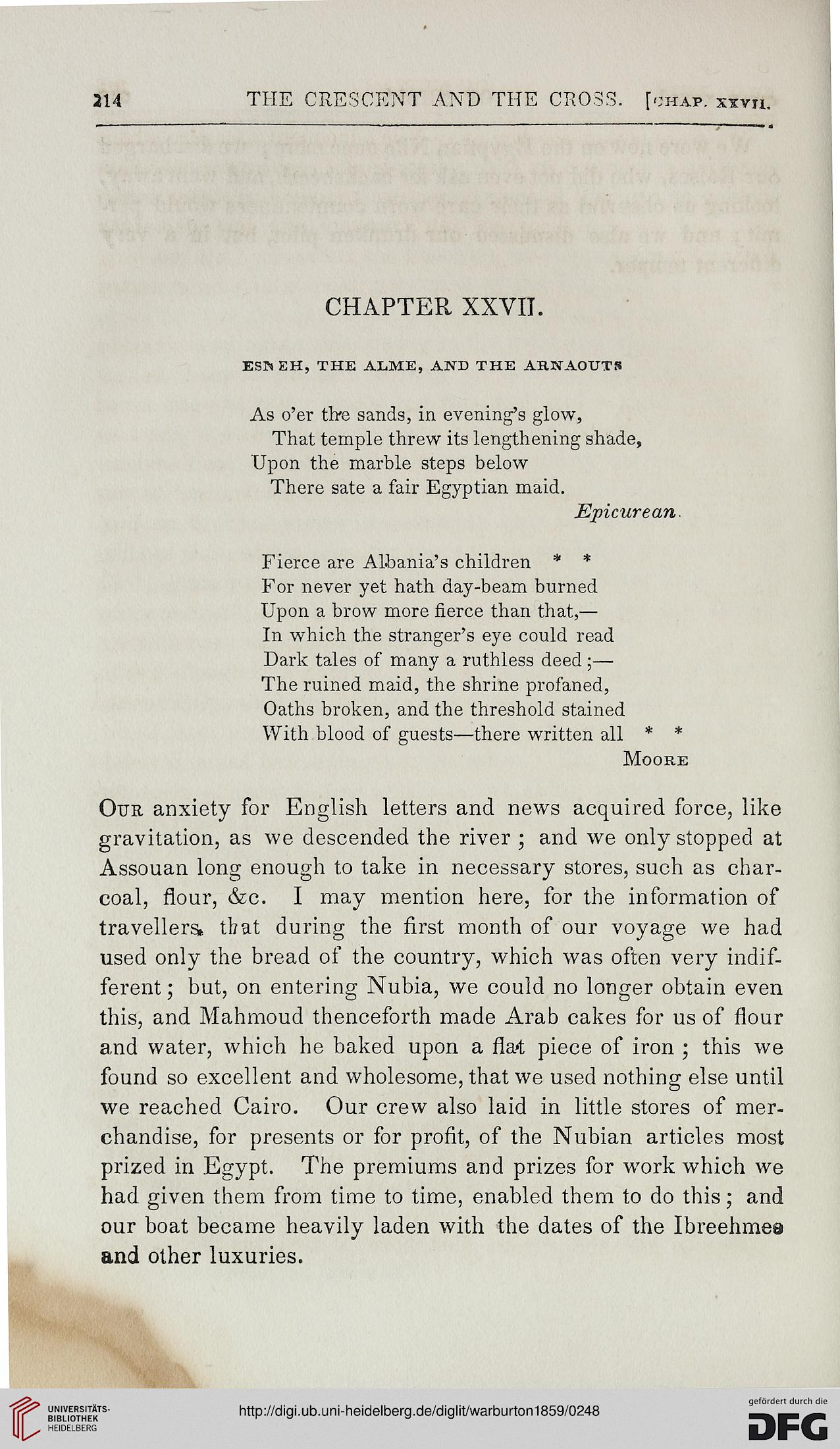 THE CRESCENT AND THE CROSS, [chap. xxvn.

CHAPTER XXVII.

eh, the alme, and the arnaotjtr

As o'er tire sands, in evening's glow,

That temple threw its lengthening shade,

Upon the marble steps below
There sate a fair Egyptian maid.

Epicurean

Fierce are Albania's children * *
For never yet hath day-beam burned
Upon a brow more fierce than that,—
In which the stranger's eye could read
Dark tales of many a ruthless deed ;—
The ruined maid, the shrine profaned,
Oaths broken, and the threshold stained
With blood of guests—there written all * *

Moore

Our anxiety for English letters and news acquired force, like
gravitation, as we descended the river ; and we only stopped at
Assouan long enough to take in necessary stores, such as char-
coal, flour, &c. I may mention here, for the information of
travellers that during the first month of our voyage we had
used only the bread of the country, which was often very indif-
ferent ; but, on entering Nubia, we could no longer obtain even
this, and Mahmoud thenceforth made Arab cakes for us of flour
and water, which he baked upon a fla<t piece of iron ; this we
found so excellent and wholesome, that we used nothing else until
we reached Cairo. Our crew also laid in little stores of mer-
chandise, for presents or for profit, of the Nubian articles most
prized in Egypt. The premiums and prizes for work which we
had given them from time to time, enabled them to do this; and
our boat became heavily laden with the dates of the Ibreehmee
and other luxuries.