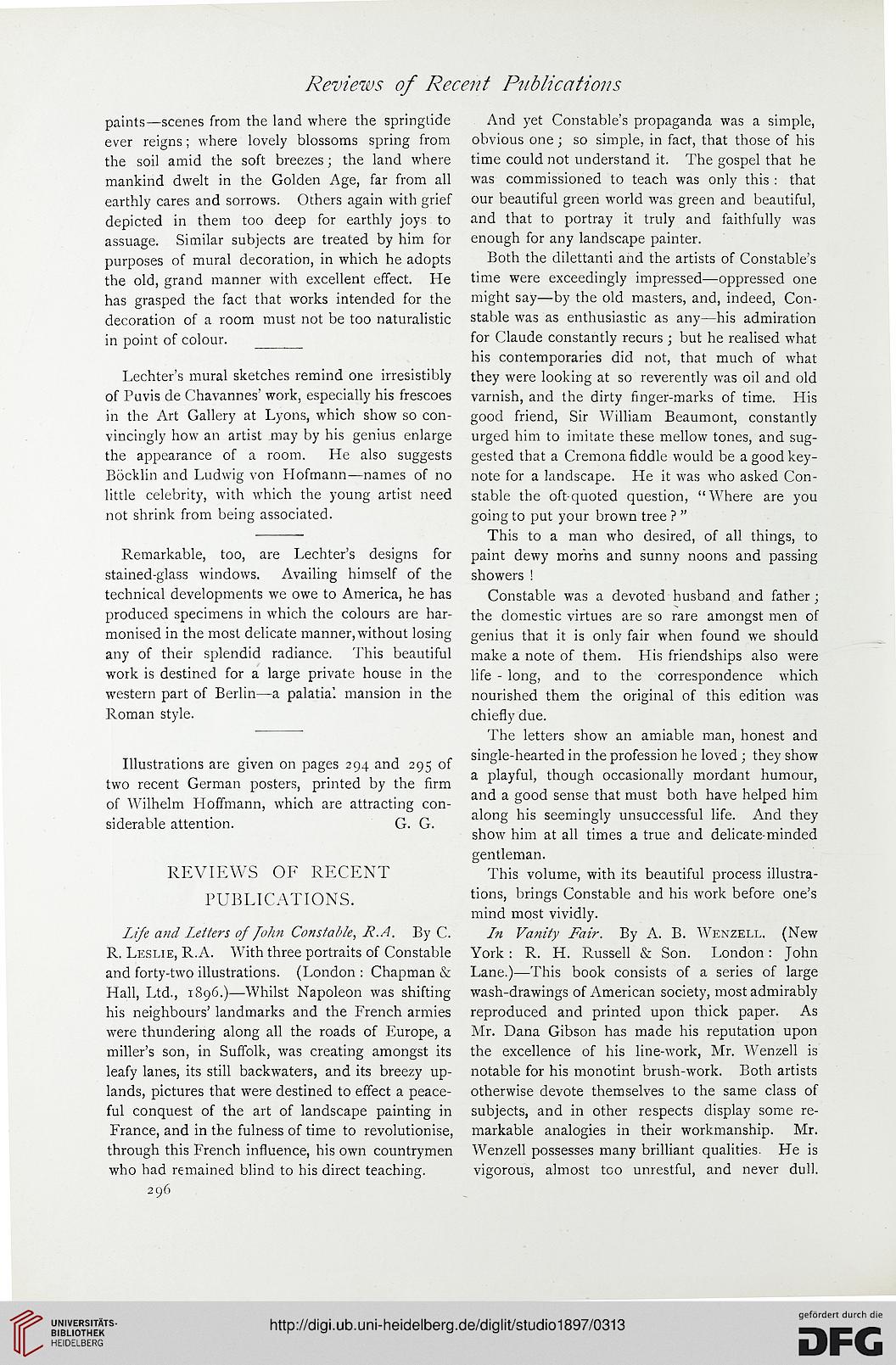 paints—scenes from the land where the springtide
ever reigns; where lovely blossoms spring from
the soil amid the soft breezes; the land where
mankind dwelt in the Golden Age, far from all
earthly cares and sorrows. Others again with grief
depicted in them too deep for earthly joys to
assuage. Similar subjects are treated by him for
purposes of mural decoration, in which he adopts
the old, grand manner with excellent effect. He
has grasped the fact that works intended for the
decoration of a room must not be too naturalistic
in point of colour.

Lechter's mural sketches remind one irresistibly
of Puvis de Chavannes' work, especially his frescoes
in the Art Gallery at Lyons, which show so con-
vincingly how an artist may by his genius enlarge
the appearance of a room. He also suggests
Bocklin and Ludwig von Hofmann—names of no
little celebrity, with which the young artist need
not shrink from being associated.

Remarkable, too, are Lechter's designs for
stained-glass windows. Availing himself of the
technical developments we owe to America, he has
produced specimens in which the colours are har-
monised in the most delicate manner, without losing
any of their splendid radiance. This beautiful
work is destined for a large private house in the
western part of Berlin—a palatial mansion in the
Roman style.

Illustrations are given on pages 294 and 295 of
two recent German posters, printed by the firm
of Wilhelm Hoffmann, which are attracting con-
siderable attention. G. G.

REVIEWS OF RECENT
PUBLICATIONS.

Life and Letters of John Constable, R.A. By C.
R. Leslie, R.A. With three portraits of Constable
and forty-two illustrations. (London : Chapman &
Hall, Ltd., 1896.)—-Whilst Napoleon was shifting
his neighbours' landmarks and the French armies
were thundering along all the roads of Europe, a
miller's son, in Suffolk, was creating amongst its
leafy lanes, its still backwaters, and its breezy up-
lands, pictures that were destined to effect a peace-
ful conquest of the art of landscape painting in

France, and in the fulness of time to revolutionise,
through this French influence, his own countrymen

who had remained blind to his direct teaching.
296

And yet Constable's propaganda was a simple,
obvious one ; so simple, in fact, that those of his
time could not understand it. The gospel that he
was commissioned to teach was only this : that
our beautiful green world was green and beautiful,
and that to portray it truly and faithfully was
enough for any landscape painter.

Both the dilettanti and the artists of Constable's
time were exceedingly impressed—oppressed one
might say—by the old masters, and, indeed, Con-
stable was as enthusiastic as any—his admiration
for Claude constantly recurs ; but he realised what
his contemporaries did not, that much of what
they were looking at so reverently was oil and old
varnish, and the dirty finger-marks of time. His
good friend, Sir William Beaumont, constantly
urged him to imitate these mellow tones, and sug-
gested that a Cremona fiddle would be a good key-
note for a landscape. He it was who asked Con-
stable the oft-quoted question, "Where are you
going to put your brown tree ? "

This to a man who desired, of all things, to
paint dewy morns and sunny noons and passing
showers !

Constable was a devoted husband and father ;
the domestic virtues are so rare amongst men of
genius that it is only fair when found we should
make a note of them. His friendships also were
life - long, and to the correspondence which
nourished them the original of this edition was
chiefly due.

The letters show an amiable man, honest and
single-hearted in the profession he loved ; they show
a playful, though occasionally mordant humour,
and a good sense that must both have helped him
along his seemingly unsuccessful life. And they
show him at all times a true and delicate-minded
gentleman.

This volume, with its beautiful process illustra-
tions, brings Constable and his work before one's
mind most vividly.

Ln Vanity Fair. By A. B. Wenzell. (New
York : R. H. Russell & Son. London: John
Lane.)—This book consists of a series of large
wash-drawings of American society, most admirably
reproduced and printed upon thick paper. As
Mr. Dana Gibson has made his reputation upon
the excellence of his line-work, Mr. Wenzell is
notable for his monotint brush-work. Both artists
otherwise devote themselves to the same class of
subjects, and in other respects display some re-
markable analogies in their workmanship. Mr.
Wenzell possesses many brilliant qualities. He is
vigorous, almost too unrestful, and never dull.