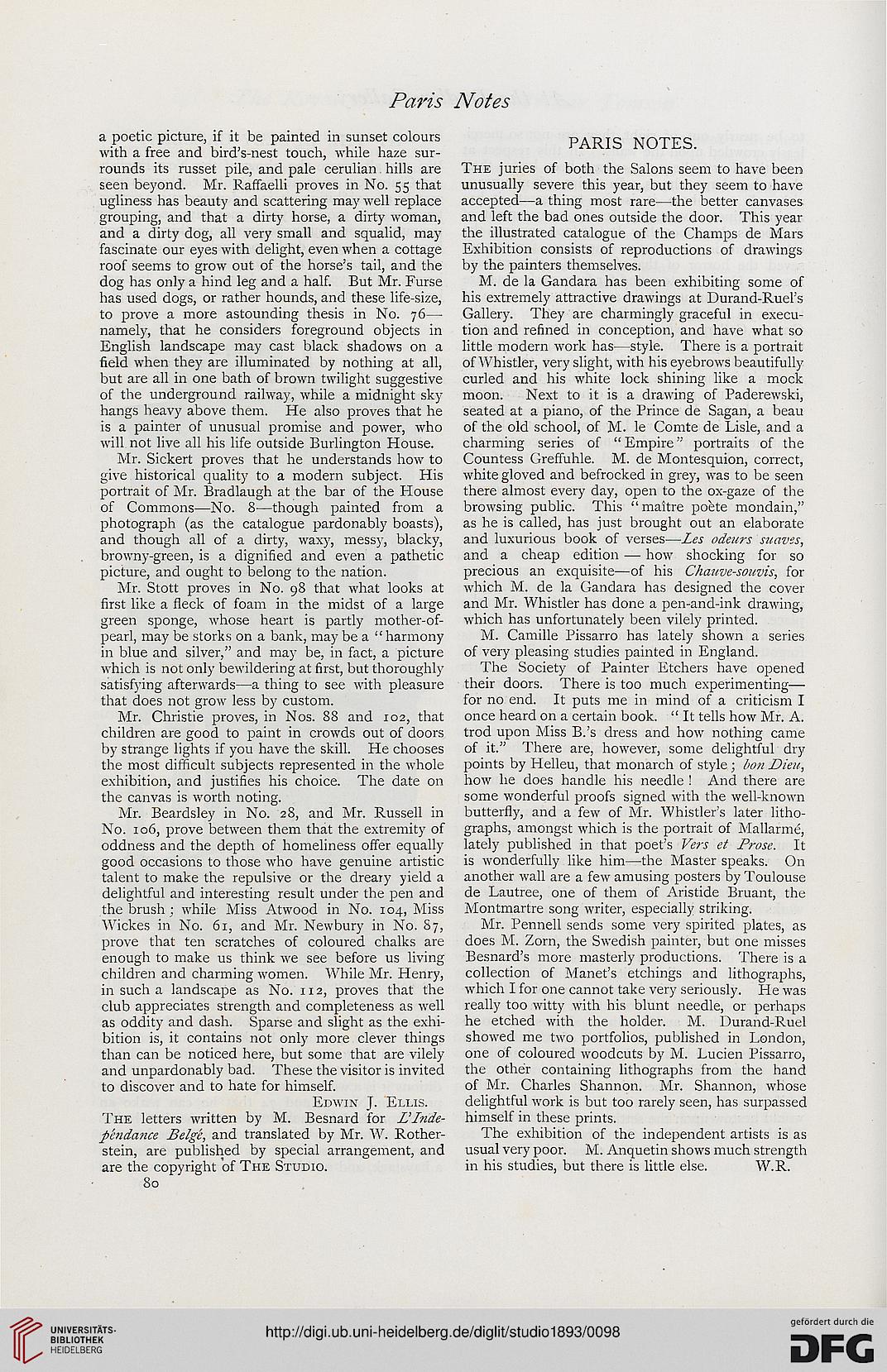 Paris Notes

a poetic picture, if it be painted in sunset colours
with a free and bird's-nest touch, while haze sur-
rounds its russet pile, and pale cerulian hills are
seen beyond. Mr. Raffaelli proves in No. 55 that
ugliness has beauty and scattering may well replace
grouping, and that a dirty horse, a dirty woman,
and a dirty dog, all very small and squalid, may
fascinate our eyes with delight, even when a cottage
roof seems to grow out of the horse's tail, and the
dog has only a hind leg and a half. But Mr. Furse
has used dogs, or rather hounds, and these life-size,
to prove a more astounding thesis in No. 76—
namely, that he considers foreground objects in
English landscape may cast black shadows on a
field when they are illuminated by nothing at all,
but are all in one bath of brown twilight suggestive
of the underground railway, while a midnight sky
hangs heavy above them. He also proves that he
is a painter of unusual promise and power, who
will not live all his life outside Burlington House.

Mr. Sickert proves that he understands how to
give historical quality to a modern subject. His
portrait of Mr. Bradlaugh at the bar of the House
of Commons—No. 8—though painted from a
photograph (as the catalogue pardonably boasts),
and though all of a dirty, waxy, messy, blacky,
browny-green, is a dignified and even a pathetic
picture, and ought to belong to the nation.

Mr. Stott proves in No. 98 that what looks at
first like a fleck of foam in the midst of a large
green sponge, whose heart is partly mother-of-
pearl, may be storks on a bank, may be a " harmony
in blue and silver," and may be, in fact, a picture
which is not only bewildering at first, but thoroughly
satisfying afterwards—a thing to see with pleasure
that does not grow less by custom.

Mr. Christie proves, in Nos. 88 and 102, that
children are good to paint in crowds out of doors
by strange lights if you have the skill. He chooses
the most difficult subjects represented in the whole
exhibition, and justifies his choice. The date on
the canvas is worth noting.

Mr. Beardsley in No. 28, and Mr. Russell in
No. 106, prove between them that the extremity of
oddness and the depth of homeliness offer equally
good occasions to those who have genuine artistic
talent to make the repulsive or the dreary yield a
delightful and interesting result under the pen and
the brush : while Miss Atwood in No. 104, Miss
Wickes in No. 61, and Mr. Newbury in No. 87,
prove that ten scratches of coloured chalks are
enough to make us think we see before us living
children and charming women. While Mr. Henry,
in such a landscape as No. 112, proves that the
club appreciates strength and completeness as well
as oddity and dash. Sparse and slight as the exhi-
bition is, it contains not only more clever things
than can be noticed here, but some that are vilely
and unpardonably bad. These the visitor is invited
to discover and to hate for himself.

Edwin J. Ellis.
The letters written by M. Besnard for L'lnde-
pcndance Beige, and translated by Mr. W. Rother-
stein, are published by special arrangement, and
are the copyright of The Studio.
80

PARIS NOTES.

The juries of both the Salons seem to have been
unusually severe this year, but they seem to have
accepted—a thing most rare—the better canvases
and left the bad ones outside the door. This year
the illustrated catalogue of the Champs de Mars
Exhibition consists of reproductions of drawings
by the painters themselves.

M. de la Gandara has been exhibiting some of
his extremely attractive drawings at Durand-Ruel's
Gallery. They are charmingly graceful in execu-
tion and refined in conception, and have what so
little modern work has—style. There is a portrait
of Whistler, very slight, with his eyebrows beautifully
curled and his white lock shining like a mock
moon. Next to it is a drawing of Paderewski,
seated at a piano, of the Prince de Sagan, a beau
of the old school, of M. le Comte de Lisle, and a
charming series of " Empire" portraits of the
Countess Greffuhle. M. de Montesquion, correct,
white gloved and befrocked in grey, was to be seen
there almost every day, open to the ox-gaze of the
browsing public. This " maitre poete mondain,"
as he is called, has just brought out an elaborate
and luxurious book of verses—Les odeurs suaves,
and a cheap edition — how shocking for so
precious an exquisite—of his Chauve-souvis, for
which M. de la Gandara has designed the cover
and Mr. Whistler has done a pen-and-ink drawing,
which has unfortunately been vilely printed.

M. Camille Pissarro has lately shown a series
of very pleasing studies painted in England.

The Society of Painter Etchers have opened
their doors. There is too much experimenting—
for no end. It puts me in mind of a criticism I
once heard on a certain book. " It tells how Mr. A.
trod upon Miss B.'s dress and how nothing came
of it." There are, however, some delightful dry
points by Helleu, that monarch of style ; bon Dieu,
how he does handle his needle ! And there are
some wonderful proofs signed with the well-known
butterfly, and a few of Mr. Whistler's later litho-
graphs, amongst which is the portrait of Mallarme,
lately published in that poet's Vers et Prose. It
is wonderfully like him—the Master speaks. On
another wall are a few amusing posters by Toulouse
de Lautree, one of them of Aristide Bruant, the
Montmartre song writer, especially striking.

Mr. Pennell sends some very spirited plates, as
does M. Zorn, the Swedish painter, but one misses
Besnard's more masterly productions. There is a
collection of Manet's etchings and lithographs,
which I for one cannot take very seriously. He was
really too witty with his blunt needle, or perhaps
he etched with the holder. M. Durand-Ruel
showed me two portfolios, published in London,
one of coloured woodcuts by M. Lucien Pissarro,
the other containing lithographs from the hand
of Mr. Charles Shannon. Mr. Shannon, whose
delightful work is but too rarely seen, has surpassed
himself in these prints.

The exhibition of the independent artists is as
usual very poor. M. Anquetin shows much strength
in his studies, but there is little else. W.R.